Allergen free, long-lasting and consistent: why Woody's chooses Frymax
Woody's is a well-established fish and chip takeaway in the traditional north Kent seaside town of Leysdown, just two minutes walk from a stretch of golden sandy beach.
Busy all year round, Woody's experiences a seasonal boost in the summer as holidaymakers, day-trippers and those staying at the local caravan and campsites make it their lunch or dinner destination. The local customer base also stays loyal through the summer with many making the most of the shop's online delivery or click and collect app to avoid the long queues that can build up.
Boasting a five-star hygiene rating, Woody's prides itself on customer service and a quality food offering that appeals to all, the latter being one of the main reasons manager Paige Welsh says she uses Frymax 100% fully sustainable palm oil. 
"We get a lot of customers coming in and asking us different questions about the oil, what we fry in and does it contain this or that. With Frymax it's completely allergen free, it's vegan and vegetarian friendly and it doesn't contain any additives or preservatives, so we can reassure our customers that our food is safe and that everyone can enjoy our fish and chips."
Getting through over 70 sacks of potatoes a week, Woody's four pan frying range handles a wide range of fried options including curry spring rolls, chicken strips and sausages. Frymax performs consistently, another reason it rates highly with Paige.
"Frymax works across the whole menu even when something changes. For example, we sell a lot of southern fried chicken strips and bites and it's quite common for the coating to change, but we don't have any issues with the oil at all. It doesn't ever change the way anything cooks. We always know with Frymax exactly how the end product is going to come out."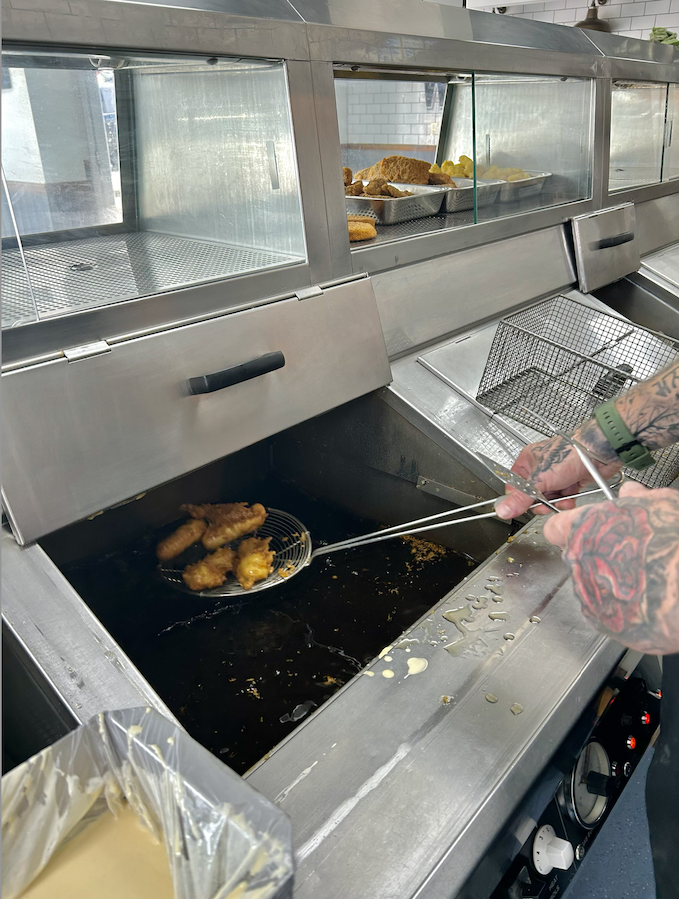 Using around 20 boxes of Frymax a week, Paige is strict with her oil management, ensuring pans are constantly skimmed, filtered daily and regularly topped up. 
"I'll also make sure the staff are not wasting oil by reminding them to let a basket drain before tipping the chips into the chip box. That way you get more oil going back into the pan," she adds.
Paige's honed oil management skills combined with the long fry life offered by Frymax have proved a winning combination for Woody's. Paige adds: "Frymax, for us, has always worked. It never burns, it lasts a long time and it stays clean. It's a bit pricier than some other oils, but you get what you pay for and the oil does have a big impact on the end product. We'll choose Frymax every time."
Frymax www.frymax.co.uk