Foz's Fish Bar in Failsworth, Manchester, has been offering customers the choice of English and Chinese curry sauce ever since it opened 15 years ago, but owner Martin Greenwood says it's Goldfish Chinese Curry sauce from Keeyjays that remains the best seller
"What's nice about Keeyjays Goldfish Chinese Curry Sauce Concentrate," says Martin, "is that it's got a little kick to it but it's not too spicy so it's just right for all walks of life. We deliver to an old people's home every Thursday and they always have the Chinese curry sauce."
In the shop's early days, Foz's sold Chinese curry sauce in a pot as a side for fish and chips. And while it's still available in a 7oz pot for £1.10, as Martin has looked for new ways to diversify the menu, it's now served in a multitude of ways alongside steamed fish, for example, as well as in its latest addition, rice bowls.
Martin explains: "The way times are at the moment with prices and the cost-of-living crisis, I wanted to try something a bit different. We saw VA Whitley serving these rice bowls at their show in March and we thought, that's a good idea."
The way Martin does it though is slightly different. He puts curry sauce in the bottom of the bowl first, adds the rice, then the fish or chicken and pours more curry sauce over the top. "That way the customer gets a bit of curry sauce at the beginning and at the end, instead of being left with plain rice or chips," says Martin.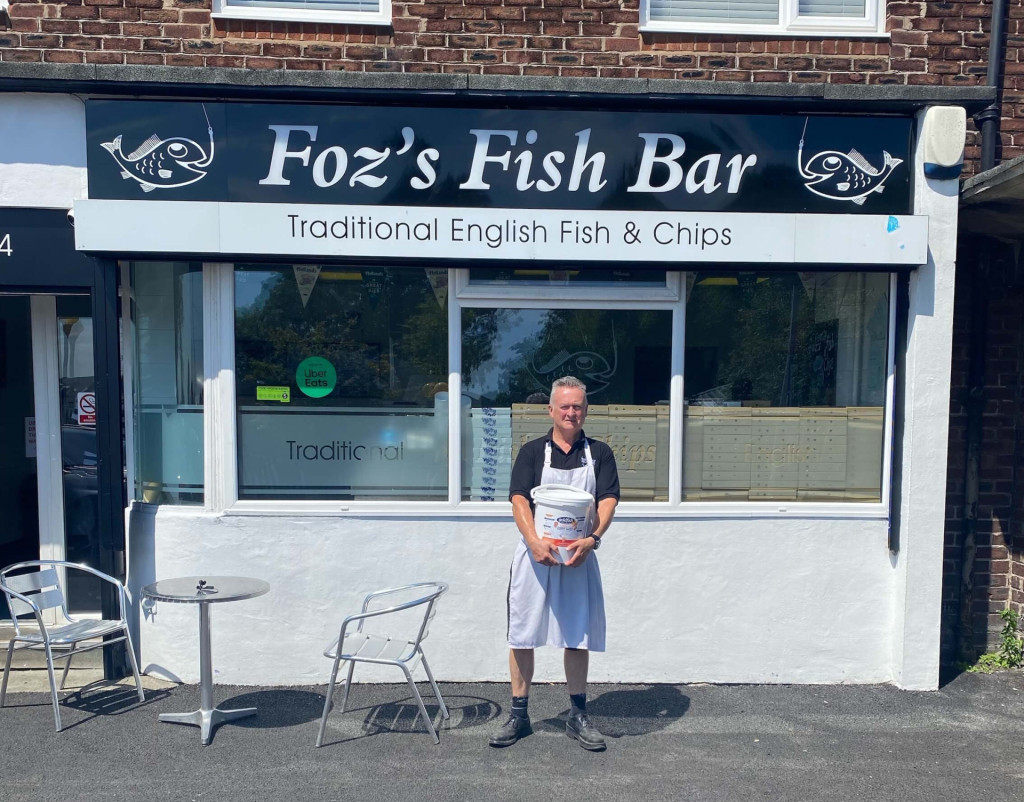 Making up the curry sauce fresh every morning by mixing the paste with water and simmering, Martin is mindful to make a bain marie and a half because demand is such that most days he gets to the end of the lunchtime shift and has to top it up again.
Martin adds: "As well as having a great consistency and texture what I also like about Goldfish Chinese Curry Sauce is that if we're really busy and we're running short, I can easily put a bit in a bowl, boil the kettle, pour it over and in just a couple of minutes we've got enough to get us through the shift."
It means Foz's never runs out, loses sales or leaves a customer disappointed.
Martin's secret when making up the sauce is to get the texture just right, adding: "Never mix it too thin because you don't want the curry sauce to run through the chips. You want it to sit on top of the chips."
Martin buys Goldfish Chinese Curry Sauce through VA Whitley and says: "I've got a great relationship with VA Whitely, I've dealt with them for years and nothing is ever too much trouble for the team. The availability of products is great, in fact, I get almost all of what I need from them which means I don't have to go anywhere else."
Area sales manager for VA Whitley Craig Whitley, adds: "Foz's is a fantastic shop, it's run by a great family and Martin is very good at taking a product, following the instructions but then tweaking it so that it works for him. He's a great operator and a credit to the industry."
Keejays 01473 827304 www.keejays.com