When customers crave more flavour, give them chicken wings coated in Chicken Train's Hot 'n' Spicy Marinade
As consumer demand for spicier foods heats up, Chicken Train's Hot 'n' Spicy Marinade is the perfect coating to take traditional chicken wings to the next level.
Made using generous amounts of chilli, the fiery marinade imparts a hot red tint to chicken wings as well as an intense spicy heat that will set tastebuds tingling. To give customers the perfect wing experience, operators can complement the marinade with Chicken Train Southern Fried Hot Double Breader to obtain a signature crispy chicken wing exterior.
Hot and spicy chicken wings can be served in a multitude of ways to create a variety of menu options. For example, they can be portioned into three or six and served on their own or added to a bucket, a meal deal, or a sharing platter. Add in a cooling mayo dip or double up on spice with a Scotch Bonnet or sriracha sauce.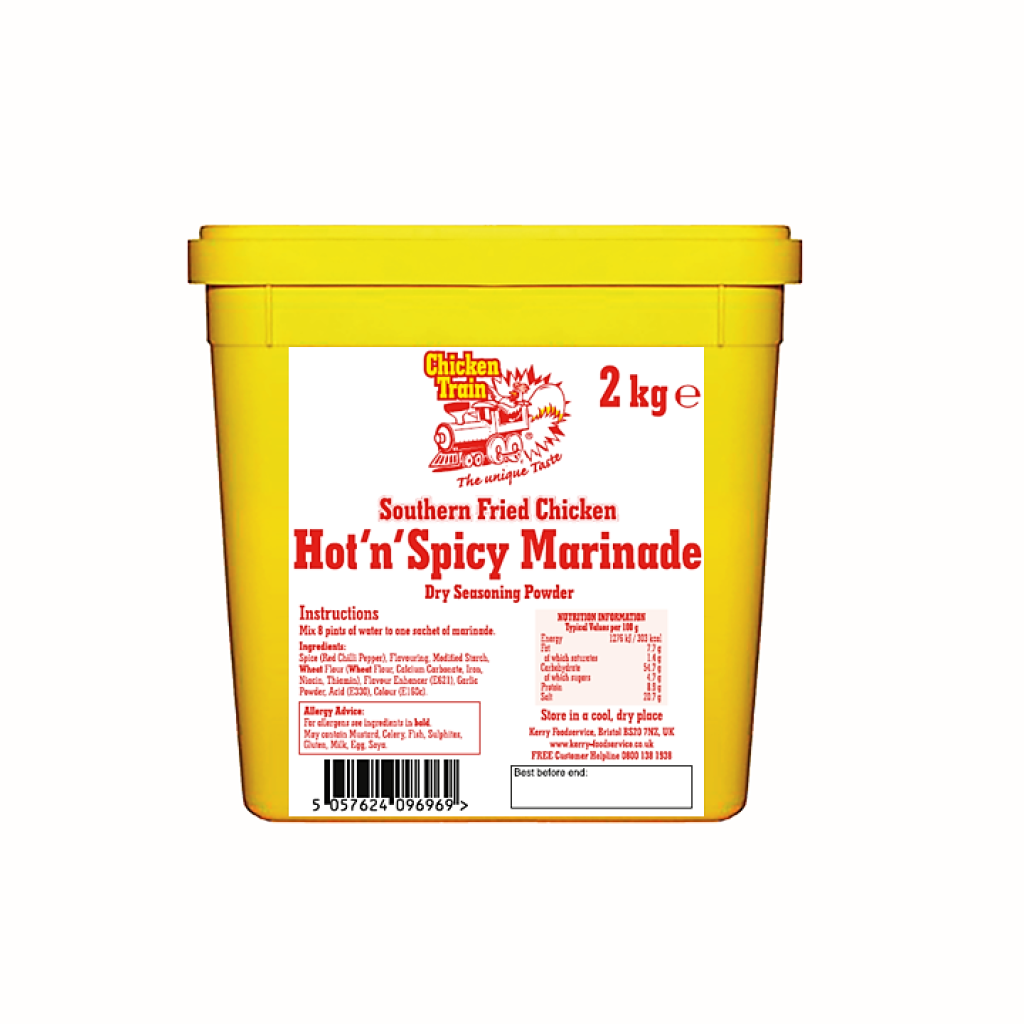 Chicken wings are increasingly becoming hot property, featuring on more and more menus. They even command their own event, Wing Fest, the world's largest chicken wing festival held annually in the UK where over 200,000 wings are served!
Karen Heavey, brand manager at Kerry Foodservice, comments: "Customers are increasingly expecting spicier flavours when it comes to chicken, so we've created a marinade that really ramps up the heat. Delivering on taste, texture, flavour and, of course, that all-important hit of spice, Chicken Train Hot 'n' Spicy Marinade enables fish and chip shops to capitalise on this trend, widen their menus and compete with the big high street chicken chains."
Chicken Train Hot 'n' Spicy Marinade is available in a powdered format in resealable 2kg tubs. Also available in the marinade range is Piri Piri Extra Hot, Piri Piri Hot, Piri Piri Mild, and Lemon and Herb, giving operators a choice of heat levels for their chicken. 
Chicken Train 0800 138 1938 https://eu.kerryfoodservice.com/collections/chicken-train