Over 200 Chelsea Pensioners enjoyed freshly cooked fish and chips at their home in the Royal Hospital Chelsea on Friday in celebration of National Fish & Chip Day. 
The ex-army men and women were treated to the familiar taste of fish and chips alongside portions of mushy peas, curry sauce and onion rings all courtesy of ingredients supplier Ceres.
Pensioner Roy Palmer, who served in the British Army for 27 years, has enjoyed fish and chips all over the world, from Germany and Hong Kong to Blackpool and Skegness. Holding a passion for fish and chips, he cites his favourite chippy as Monty's in Mablethorpe, Yorkshire.
Roy said: "I love fish and chips and today they were fantastic. The batter was lovely and the mushy peas were great too. It was lovely to be part of National Fish & Chip Day."
Tucking into cod, chips and mushy peas evoked memories for Roy of enjoying the nation's favourite dish as a youngster. He added: "The first time I had fish and chips was in either 1946 or 1947. They used to cook them in the town about three miles away from where I lived, wrap them in newspaper and put them in a cardboard box. They would go all around the villages selling them and people used to queue up to buy them. I lived in the last village and by the time they got to us, the food was almost cold and so congealed that you had to pull the chips apart, but we still loved them!"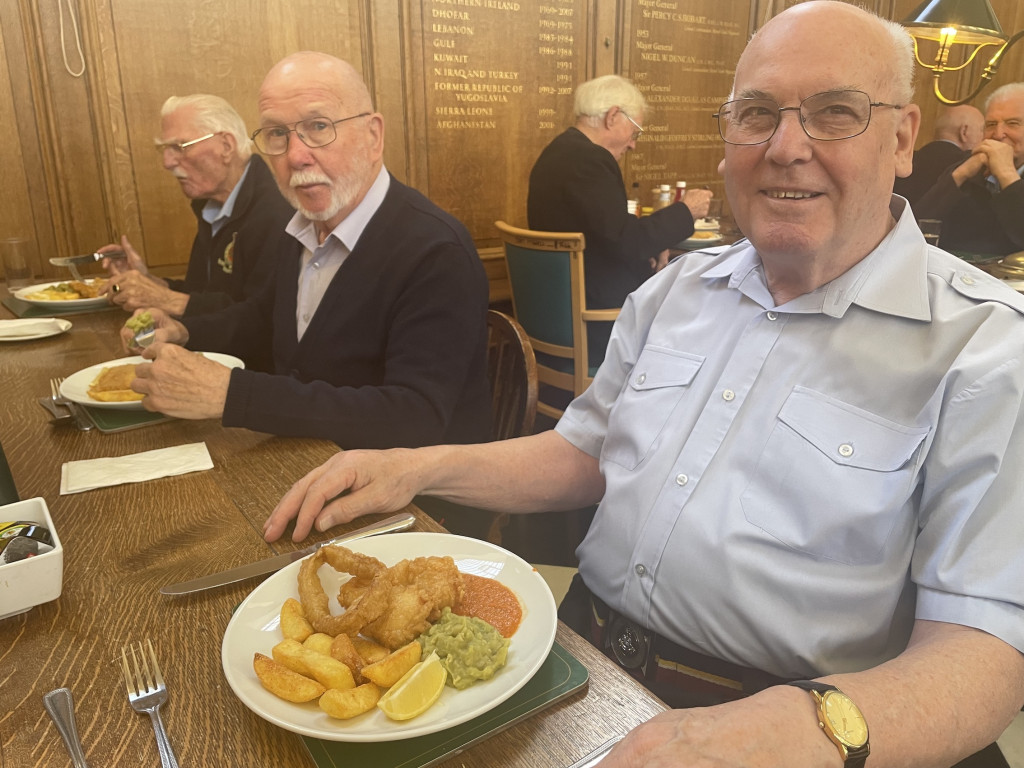 Another Chelsea Pensioner, Roger, who served for 31 years after being recruited by the Army when he was just 16, recalled chips costing just 3p when he was a boy. He too has a passion for fish and chips having worked in a fish restaurant peeling potatoes when he was 14.
Roger comments: "We have fish and chips here every Friday and it's a very popular lunch meal, but today it has been extra special. The fish and chips were very nice and I had curry sauce, which isn't usually available.
"Not every pensioner comes to every meal, but today everyone has come for lunch. It's been nice that we are able to celebrate National Fish & Chip Day here."
Stelios Theocharous, managing director of Ceres, expressed his honour in serving these remarkable men and women, saying: "It's an absolute honour to serve these men and women who have dedicated their lives to serving us in the most amazing way. This generation has been brought up on fish and chips, and I couldn't think of a more fitting way to celebrate National Fish & Chip Day than by recreating that chip shop experience in their home. It's our chance to thank them for everything they have done to keep us safe."