A new two pan Mallinson's wall range has provided Tony's Chip Shop in Coatbridge, Lanarkshire, with a cost effective overflow to increase capacity
With lots of hard work, trade has been growing steadily over the years at Tony's Chip Shop and to remain at the top of its game, owner Hugh Innes was keen to improve his throughput to keep up with demand.
After several discussions with his current range supplier, Mallinson's, and a shop visit, two options were on the table. Exchange the current three pan frying range and replace with a four or possibly a five pan range, or add a completely separate wall range under a canopy towards the rear of the shop.
The first option was more costly and, as the current Mallinson's range is just five years old, it seemed unnecessary to trade it in just yet. In addition, a longer range with more pans would have meant sacrificing counter space, something that could have negatively impacted the shop's ability to increase the number of customers through the door in a timely manner.
Option two was evidently preferable.  A bespoke two pan wall range beneath a disused canopy was the perfect place to house the additional range. This would allow Hugh and his staff to fry extra chips during the busiest periods and save on energy with the range switched off when not required.
Within six weeks of Mallinson's starting to build the range, it was ready for business.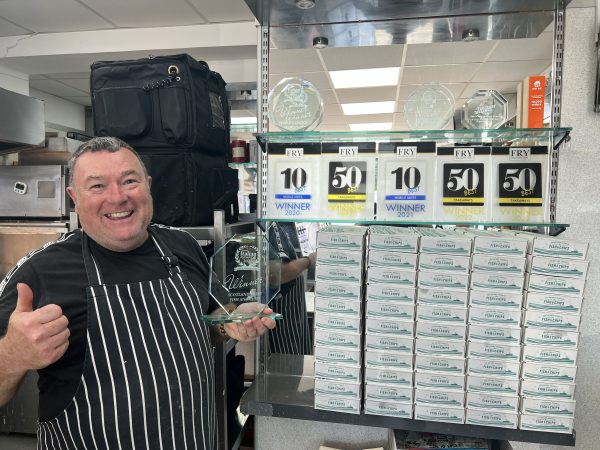 Hugh comments: "When I first spoke to Mallinson's they knew I was on a budget, but they also knew what I needed. I'm so pleased with the new frying range, it's made all the difference for me and my customers, I'm really pleased we made it happen."
With deliveries taking off for Tony's, the extra two pans have helped keep up with demand and cut the wait time significantly. Hugh adds: "The new wall range has paid for itself much quicker than I had anticipated. Total value for money."
On the end-to-end process with Mallinson's, Hugh added, "They're just so easy to deal with. From start to finish, nothing was too much bother and knowing that I've now got another Mallinson's range at a great price I couldn't be happier!"
Mallinsons 01706 299000 www.mallinsonsofoldham.com