Fish and chip shops across the UK are gearing up for what could be their busiest day of the year, National Fish & Chip Day.
Taking place on Fryday 2nd June, this year's celebration aims to say thank you to an industry which is facing enormous challenges with price rises and supply chain issues but is still going all-out to feed local communities this iconic family favourite.
Staff at Eric's Fish & Chips in Norfolk have hand-cut a number of fish-shaped chips which they will be hiding in with customers' orders, each one bagging a £30 voucher. It has also teamed up with local supplier Stokes Sauces to offer a free sachet of ketchup to the first 80 orders on the day. 
Over at Fish City in Belfast, it's using the day to raise money for charity with £1 from the sale of every cod sold going to Team Haven, a voluntary community organisation that provides hot meals for the homeless.
The Carron Fish Bar in Stonehaven, Aberdeenshire, is treating customers to free curry sauce or mushy peas with a haddock supper. Owner Murray Watson says: "With times being hard, we realise the pinch that everyone is feeling. To help people celebrate what we consider the most important day of the year, we thought why not pair our amazing dish with a free portion of our two most popular sides?
"We are hoping the sun will shine and everyone can enjoy a fantastic Friday treat down by the seaside. We want to raise awareness of how important the dish is to the great British public and that it's a day the whole family can enjoy and support."
Meanwhile, in Largs, Ayrshire, The Fish Works is putting on a special offer for its vegan customers by teaming up with Omni Foods via wholesaler Henry Colbeck to offer free vegan fish and chips. Staff will also be wearing National Fish & Chip Day merch and decorating the shop.
Some chippies, like The Bearded Sailor in Pudsey, have already started the celebrations. It has issued vouchers for free fish and chips to local businesses with instructions from owner Alex Papaioannou to hand them out to customers they feel deserve free fish and chips.
Alex comments: "I've done it to raise awareness for National Fish and Chip Day in Pudsey with the local businesses. It's been really good, it's lovely having happy people coming into the shop for free fish and chip – many of which have not tried us before."
Hundreds more shops are donning National Fish & Chip Day merchandise – which is still available to buy from the online shop until the end of play today – putting up bunting and balloons and making cup cakes for the day.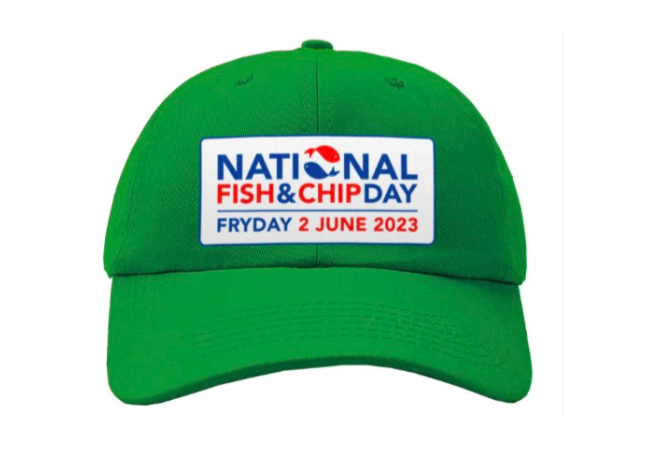 Meanwhile, National Fish & Chip Day organiser NEODA will be heading out on roadshows along with a host of award-winning fish friers and suppliers, taking free fish and chips to London, Scotland, Wales and Leeds.
NEODA says the response to its poster – which shops are still encouraged to download and display – offering the chance for one customer to win £1,000 of Samsung tech and one chip shop a tonne of Middleton's batter – has been "massive".
Gary Lewis, president of NEODA, comments: "NEODA and all the amazing National Fish and Chip Day sponsors are looking forward to celebrating the best day of the year with you! We can't wait to see what you are all planning and wish you all the very best on what we know will be an incredible day for your shops and the fish and chip industry as a whole."
There are a host of free resources available, so there really is no reason not to get involved with this year's National Fish & Chip Day. From online toolkits available to download from the NEODA website, to videos, photos and ideas for social media posts available from Seafood from Norway.