Redcloak Fish Bar is stepping things up in Stonehaven, Aberdeenshire, with all new signage, window graphics and digital menus from BD Signs & BDigital
Redcloak Fish Bar is the first fish and chip shop Jamie Russo has owned and run himself. However, he's no stranger to the industry, having worked at nearby The Carron for eight years.
Buying the lease earlier in the year, Jamie comments: "It's all a bit surreal still. As well as being surrounded by chips and fish there are all the other sides of the business, like the paperwork, that were hidden for me when I was working at The Carron. But it's fun and it's good to put my spin on things and do it my way."
Jamie has certainly put his mark on the takeaway, working with BD Signs and BDigital to change the outside signage and window display as well as install digital menu screens inside.
Jamie adds: "The shop sign had been up for eight years and it looked dated and dull, as did the shopfront and the inside, it was all just very rundown. Now it's modern, bright and colourful."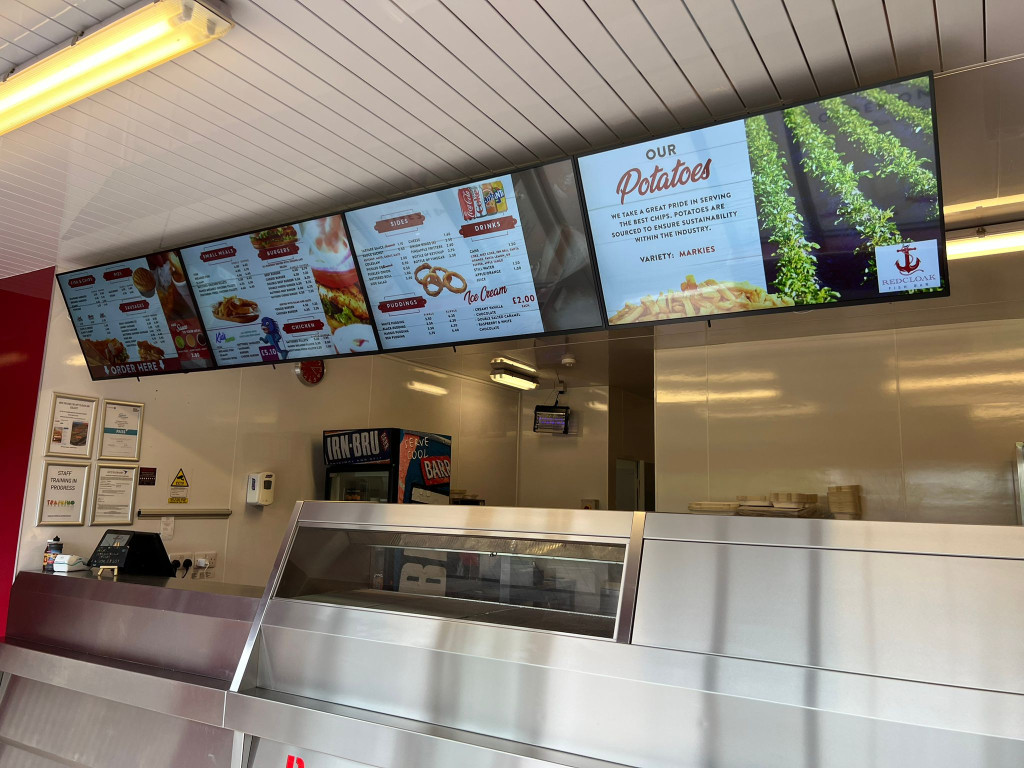 Replacing the stickers and posters in the windows with subtle under-the-sea-themed graphics has brightened up both the outside and inside space while a new projecting sign to the side of the building is capturing passing trade.
Jamie adds: "The sign is so bright. When we start getting into the winter nights it's going to be brilliant to have that on to catch people's eyes."
It's hard to believe it but the previous owner had no menu board, something Jamie addressed immediately by investing in digital menu screens. Not only can customers now see what is available, but Jamie can easily edit and update details.
"I see it as an investment because I had a price initially for about £800 for a traditional menu board, which I will have to keep forking out for when I want to make changes. Going digital will definitely be cheaper in the long run."
The screens are also used to run tailored promotions, for example, for Father's Day highlighting its gift vouchers.
"Everyone comes in and compliments the screens," adds Jamie. "The kids love them too because there's a little fish that bobs up and down on the kids' menu. The screens brighten the shop up and make it a lot more modern. I'm in love with them."
Jamie also utilises ready-made templates supplied by BD Signs which he can simply upload. "They are perfect for me and save me a lot of time," he adds.
The changes are having the desired effect with the shop already a lot busier than under the previous owner and many customers have already paid a repeat visit.
Jamie adds: "There is a lot of competition in the town – and there is plenty of room for everyone – but it's nice to just have that more modern, colourful, bright look for ourselves."
BD Signs & BDigital 0115 979 4330 www.bdsignsnottingham.co.uk