Stones is a hidden gem in Acton, West London, where customers can order Poutine and French tacos alongside fish and chips
While looking for a shop to bring the popular French tacos from Paris to London, French-Algerian Amine Chaouche stumbled upon Stones, a fish and chip shop in a residential area of Acton, West London, that had all the equipment and that was within budget.
Amine made an offer which was accepted immediately, throwing him head first into the world of fish and chips with no industry experience other than working for five-star hospitality operators in Paris before coming to London to marry his Najett in 2016.
"The previous owner kindly agreed to teach me the basics," explains Amine. "I thought two weeks would be enough time to learn everything, but boy was I wrong! It's been a bit of a challenge, but I'm enjoying learning more every day. It's been an exciting journey so far, and I can't wait to see where it takes me."
That was in November 2019, just before Covid hit, and since then it has been Amine's goal to create a place where customers could enjoy delicious food, even if they were taking it to go.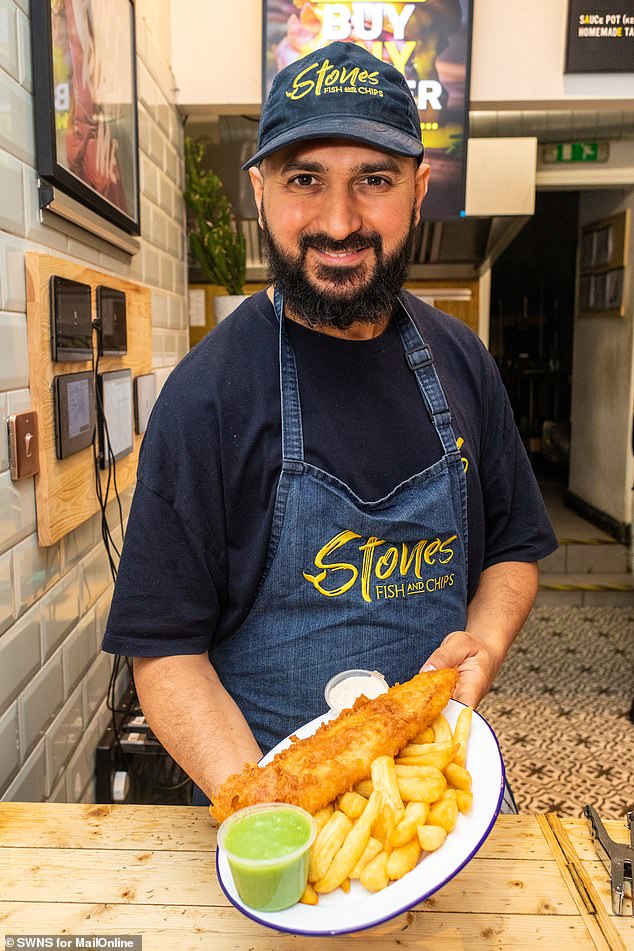 He has invested in quality ingredients – sustainable fish and pre-prepared chips – he uses biodegradable packaging and dedicates time to staff training, because "it's important to ensure your team is equipped with the skills and knowledge they need to provide quality service and maintain hygiene standards," he says.
New high-quality advertising screens have been installed and a website set up to attract more customers. Amine is now currently exploring new frying range innovations for when an upgrade is needed.
"I wanted to ensure that the packaging and presentation of the food was top-notch so that customers felt like they were getting a quality product even if they weren't dining in. Of course, customer service was still a top priority – I wanted customers to feel welcomed and appreciated, whether they were eating in or taking their food to go. Ultimately, my goal was to create a shop that people would keep coming back to because they knew they could count on great food and great service every time."
The only drawback to the shop currently is the location. Situated in a residential area on a parade next to a road with high vehicle traffic and not a lot of parking space, the area isn't very densely populated, so foot traffic can be limited at times. But there's potential for growth in the future with the new Elizabeth Line underground set to open just a five-minute walk from the shop and around 4,000 apartments being built within a mile radius.
"This could mean a lot more potential customers for us, especially since there aren't currently any fish and chips shops in the immediate area."
Stones has a diverse customer base, with Amine estimating around 35% are white British, 35% are white non-British – primarily Polish and Eastern Europeans – and the remainder coming from a variety of minority backgrounds. To reflect this, the menu has a modern twist on traditional fish and chips with the usual chip shop fare complemented by homemade cajun fishcakes, halloumi fries, a veggie burger and plant-based fish and chips.
To cater for all appetites and budgets, Stones offers three sizes of cod and haddock – mini, regular, and large – with a regular cod, chips and mushy peas coming in at a very reasonable £10.99.
To maximise the shop's capacity and revenue, Amine has developed a range of virtual brands that work out of the shop. These include French tacos, the popular street food that Amine was so keen to bring over from France, the classic Quebecan dish Poutine, as well as a gourmet burger brand. They use the same high quality ingredients that Stones uses for its fish and chips, making it easy to manage operations and ensure consistent quality across all its offerings.
"Having these additional brands allows us to offer a wider range of options to our customers, while also bringing in more business during quieter days," says Amine.
Like many operators, Amine has had to juggle increasing energy prices, something he's addressed by analysing his Epos data and sales hours and making the difficult decision to reduce opening hours from 84 hours per week to a much smaller 29.
"While consistency in opening hours is crucial for any business, it was vital for me to reduce costs and increase profitability. This decision has helped me save on energy bills, staff wages and other expenses. It has also given me more time to focus on marketing, accounting, and achieving a better work-life balance."
Amine's constant hard work has paid off with the shop winning a Fry Top 50 Award this year. He adds: "Winning the award this year has been a great honour for us, and we've seen a positive impact on our business in terms of new customers and increased media coverage. We're proud to have been recognised by such a respected organisation, and we remain committed to continuing to improve and exceed expectations in the future."