If you had to pair your fish and chip shop with another venture, what would it be? A pizzeria, an ice cream parlour or a souvenir shop all seem quite natural fits. But what about a bakery?
"On paper, it doesn't seem to sound right, a fish and chip shop and a bakery, does it?" says Phillippa Lambert, owner of Mary Lambert in Hartlepool, County Durham.
"In real life, it really works. Things like the bread, pies and quiches, we make fresh ourselves and serve in the restaurant as well as over the counter. And we get a lot of people who try the food in our restaurant and then say, can I take some of this home? So the two feed off each other well."
Artisan baker
The two businesses haven't always sat side-by-side. It was Phillippa's grandmother, Mary Lambert, who founded the artisan bakery of the same name in Northgate in 1960.
When Phillippa joined her father in the bakery almost 50 years later, they decided they needed to branch out for the business to have longevity. In 2012, they uprooted the bakery to larger premises in Villiers Street, Hartlepool, which is when fish and chips was added to the offering.
"Fish and chips was something that we'd always had a little bit of an interest in and there was a bit of a gap in the market in Hartlepool," explains Phillippa. "Whilst there were some fish and chip restaurants in Seaton, which is on the edge of town, there was nothing really in the town centre area that offered what we wanted to offer."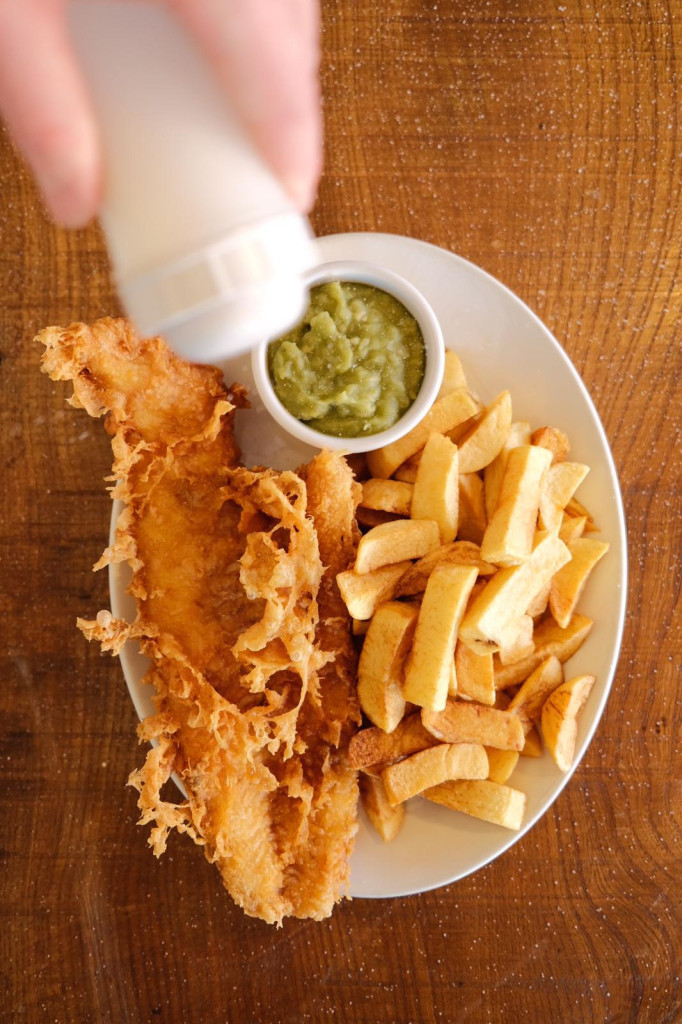 The business has flourished since the move, with the bakery counter now complemented by an 80-seater fish and chip restaurant and takeaway. Here, fresh cod and haddock landed at Hartlepool fish quay are served coated in a secret recipe batter handed down by Phillippa's grandmother and a side of homemade tartare sauce – another of Mary's original recipes.
Fourteen staff, including two full-time bakers, work across the business, which also serves a range of baked goods including chia and sourdough bread, scones, brownies and cookies, as well as Italian coffee, wines and beer. In addition, there's a deli bar selling sandwiches, which extends its customer base further by catering for the local office workers.
Catering for a much bigger audience requires a much larger range of products but with a majority made on-site, it's not a problem for Phillippa and her team. "Because we make everything ourselves, we can control what we're making and how much we're making on a daily basis. It all just comes with practice."
Online deliveries
The addition of online deliveries, introduced to see the business through Covid, is also extending the business's reputation and providing an extra stream of revenue.
"Deliveries are growing all the time," says Phillippa. "I'm quite impressed that it's still growing. I don't think it will ever overtake our restaurant sales, but it's definitely a good added value for us.
"It allows us to reach a further audience that we probably wouldn't have had and, because we have a lot of bakery items on those platforms, we find that people will order fish and chips, but they'll add bread buns or a pie and that's all added value to us. We're kind of a one-stop shop for a lot of things. Customers can get their lunch, but they can also get a pie for tea later."
With all facets of the business doing well, it's the restaurant that is seeing the most positive growth. "We find the trend at the moment is towards food to eat now, so people are coming to eat in. The trend of taking products home from the bakers is definitely on the decline."
Speaking about the potential reasons for this trend towards dining in, Phillippa believes it could be in part due to the long-standing staff – one member has been with the business for 47 years – as well as the service customers receive.
"We give that service that is probably a bit lacking at the moment. I think with all the self-service tills and serve-yourself areas, the service industry is lacking that personal touch. I like that we still have that and I have no plans to change that. We will always be a waitress service restaurant."
Cost increases
As well as contending with the ever-rising prices of fish, potatoes, oil and packaging on the fish and chip side of the business, Phillippa has had the added pressure of the cost increases on the bakery side. Every ingredient has increased, with sugar and flour shooting up by at least 40% and fats and oils by 75-100%.
"We've had to put our prices up just the same as everybody else," she says, noting that regular cod is now £8.50 and a portion of chips £4.
"Food costs are a concern. They're going up and up and up. The news keeps telling us that they're going to slow down but the stuff that's coming in the back door definitely isn't slowing down."
Phillippa has had to halt making some items until prices settle, while others, like soups, she's been able to utilise seasonal ingredients that are priced more competitively.
"We've had to try and adapt where we've needed to adapt. We offer a lot of meal deals as an attractive option. We're lucky enough that we're an affordable treat, so a full family can come out to eat and it doesn't cost the earth and it's still very enjoyable. We're lucky that we're in that bracket."