Position: Shop manager
Nominate by:  Owner Barry Howard, who says: "Joanne has been a critical member of my team. She has an autistic child at home who needs constant care, so we have become her haven of normality. You would never have known that Joanne had been up all night, and I mean from 1am through to 9am, when she came into work. Joanne has a great aptitude to learn, but what I like the best is she shares what she learns and this has assisted myself to develop a great team of staff. We've been in the Fry Top 50 Takeaways for the past four years, have only turned over three staff in five years – two to university currently – and have nine staff on the books. Joanne is crucial to my business and this nomination is well deserved."
How long have you worked at The Fish at Goose Green?
For nearly five years. In that period, I've progressed from a shop assistant to the shop manager. We have a strong on-the-job training culture and I have completed my Level 2 and 3 in food hygiene and food allergy certification.
What are your responsibilities?
My responsibilities are to make sure the team work in a safe and welcoming environment. I ensure that all cleaning schedules are followed. We have a high standard of cleaning, which we do every day, and it is my responsibility to check that it has been completed to the correct standard. I also ensure all food checks are completed from raw quality through to shelf-life dates, times, and temperature recording, making sure everything is cooked and served to our exacting standards for our customers. It has taken a while, but we are gaining a great reputation for food quality in the area.
What's your favourite part of the job?
I love my job at The Fish at Goose Green. I particularly like working with the all the team. I especially enjoy having a chat with the customers, some like to tell you what's going on in their life, some just want to see a friendly face and others just enjoy some polite banter. It's just fun!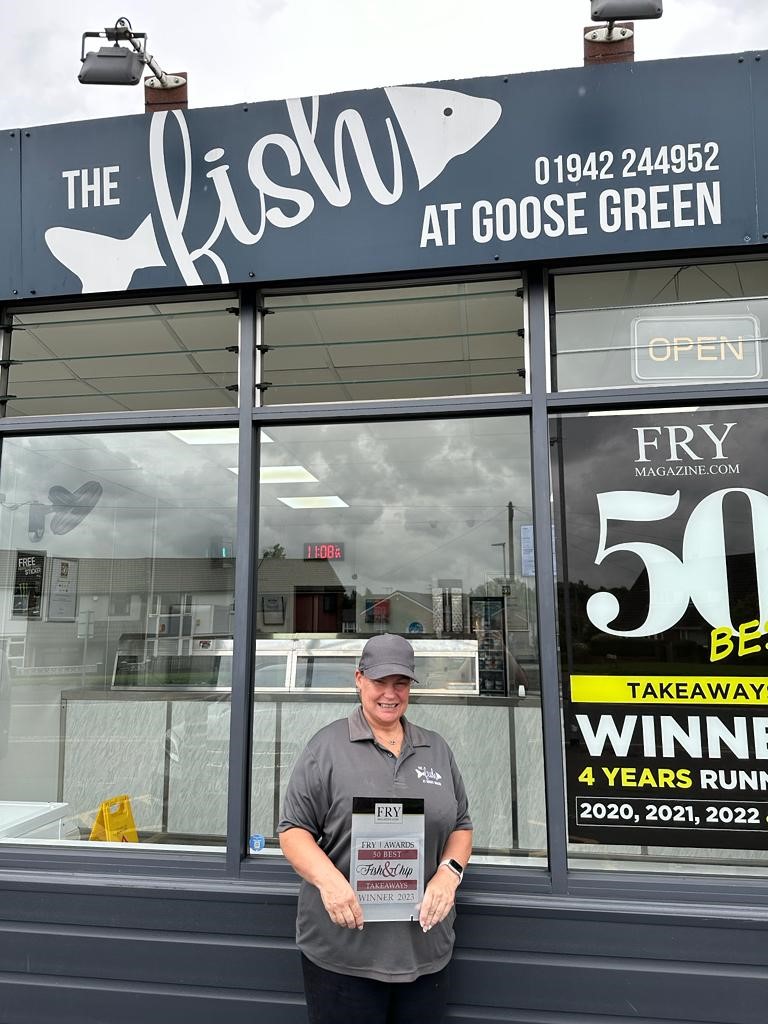 What's your least favourite part of the job?
When I'm not in work, but most of the team will tell you that I pop in even on my days off.
What is it that you like about working at The Fish at Goose Green?
The team, especially nurturing and training inexperienced staff to become valuable staff members. Even the staff that have left to go onto university still visit to say hi – I love that.
How do you feel about being nominated as an unsung hero?
I feel quite shocked at being nominated, I'm quite a humble person, but it's lovely to be recognised for the hard work I have put into making The Fish at Goose Green a success.