Fish and chips was the star of this year's Marine Stewardship Council's annual UK Awards, with two shops winning two awards each in recognition of their achievements in sustainable seafood.
Fish City in Belfast scooped MSC UK Marketing Champion of the Year for advancing consumer awareness of seafood sustainability as well as Foodservice Champion of the Year for its commitment to sourcing high quality, sustainable seafood.
Devon and Dorset based Rockfish, owned by chef and entrepreneur Mitch Tonks, won Social Media Hero of the Year while its Brixham based fresh fish supply business Rockfish Quayside won Fresh Fish Foodservice Supplier of the Year.
The MSC UK Award, a celebration of the commitment to sustainable seafood across the whole supply chain from ocean to plate, were held on Thursday 26th Octobe at the Fishmongers' Hall, London, and were sponsored by Seafood Scotland. 
Collecting the awards on stage with business partner and wife Grainne Lavery, owner John Lavery said: "This is completely unexpected. Thanks so much. It's really appreciated to be recognised for the work we have to promote and educate the people of Belfast on the importance of sustainable seafood."
Fish City, a lively, multi award-winning seafood and fish and chip restaurant and takeaway in the heart of Belfast city centre, was the first fish and chip business on the island of Ireland to become MSC certified in 2014. Last year, they took the leap of achieving and now facilitating their own MSC certificate, a huge milestone for both Fish City and the MSC.
Since 2014, the Fish City team has also run a Kids Club for local primary school children in Belfast with the aim of educating them about the importance of seafood sustainability to the fishing industry, and the health of our oceans.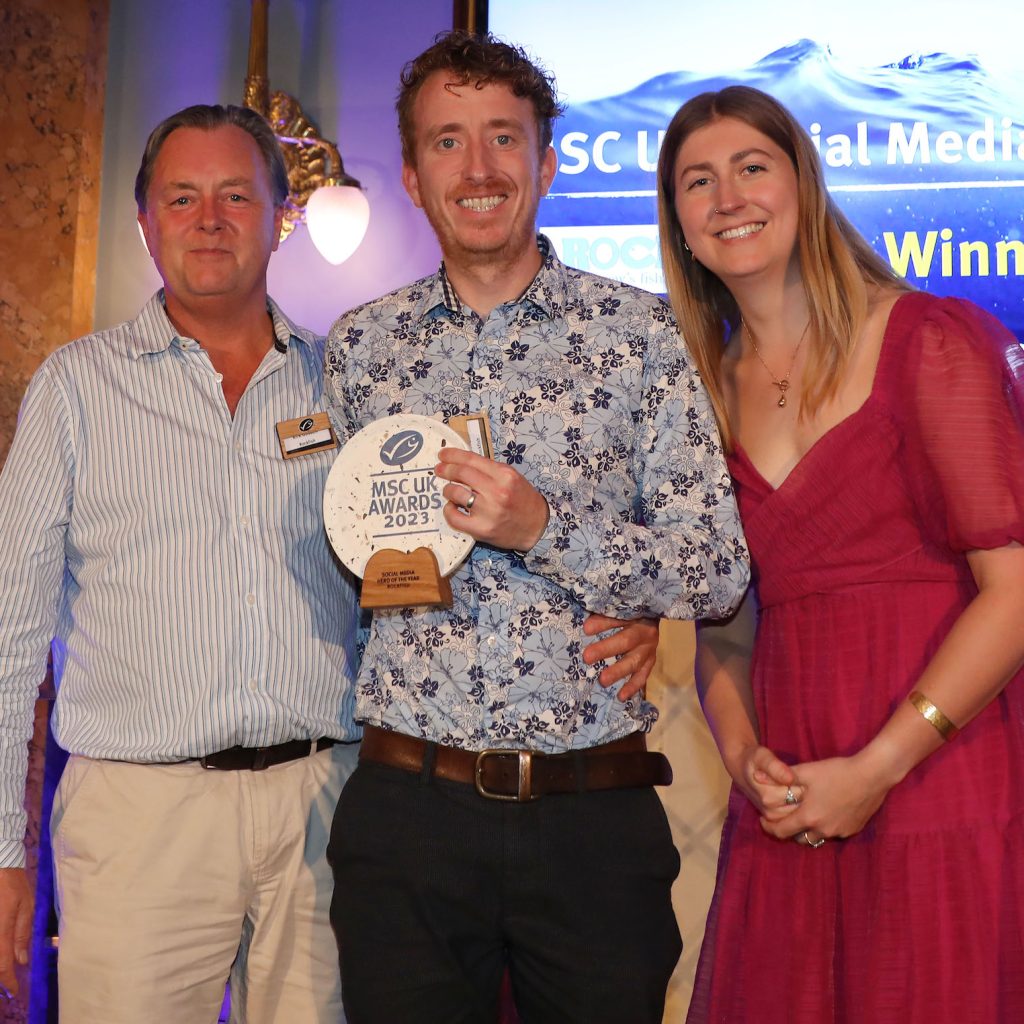 Rockfish comprises eight restaurants across Devon and Dorset with more locations opening soon, a tinned fish business and online seafood market delivering fresh fish directly from Brixham into homes and restaurants around the country.
A team from Rockfish attended the ceremony. Collecting the award for Fresh Fish Foodservice Supplier of the Year, Joshua Perkes, director of sustainability at Rockfish Quayside, said: "Thanks to the whole team at Rockfish Quayside. Here's to extending our scope and having products for future generations."
Seth McCurry, MSC UK & Ireland senior commercial manager, said: "Both Fish City and Rockfish are absolute pioneers in sustainable seafood having put innovative solutions for sustainability at the heart of their businesses. 
"Fish City has played a vital role in bringing certified sustainable seafood to diners in Northern Ireland over the last ten years while Rockfish is leading the way, in not only creative and stylish restaurants but in its growing fresh fish supply business. We commend the inspiring leadership at both businesses which has driven this change."
This year's MSC award was handmade by eco homeware company Rawr, using crushed clam and cockle shells from the MSC certified Poole Harbour fishery in Dorset, and mussel shells from Shetland's MSC certified fishery.
To mark the tenth year of the awards this year, a display featuring key milestones in the MSC's UK history was exhibited. The keynote speech was given by broadcaster and marine biologist Monty Halls, with an additional address from MSC CEO, Rupert Howes.
Awards were presented to a number of businesses including Bidfood and Direct Seafoods which won Foodservice Wholesaler of the year for the number of MSC labelled products, variety of species and volume of MSC certified fish on sale to UK foodservice companies.