Navigating the changing media landscape and ensuring your message cuts through the noise was top of the agenda at yesterday's Ceres Media Training Day.
Held at the Doubletree Hilton hotel in Coventry, the day touched on all aspects of the media from local to national and traditional to digital, with professional media trainer Liz Goddard of Birmingham-based CoComms stating how digital is now the most important channel. "The 65+ age bracket are using digital media, it might not be their preference but they do use it."
Going on to explain how there's no better opportunity than a live interview because "you talk, your audience is listening", Liz stressed the need to be "selfish" and know what you want to get out of an interview.
Her advice is to keep recycling what you want to say and don't deviate from that. The language used and the performance also needs some consideration when talking live. "Use words for the ear to hear, not for the eye to see," she said before recommending a run-through of what you are going to say. "Don't let an interview be the first time you speak those words, walk around saying them out loud." And throw in some spark by being a louder, brighter version of yourself for the interview, "but remember to be authentic and authoritative otherwise people will not believe what you are saying."
Taking a strategic approach like this will give a strong base for any interview, said Liz before concluding: "If you are going to be that voice, get lots out of it because it is a great opportunity."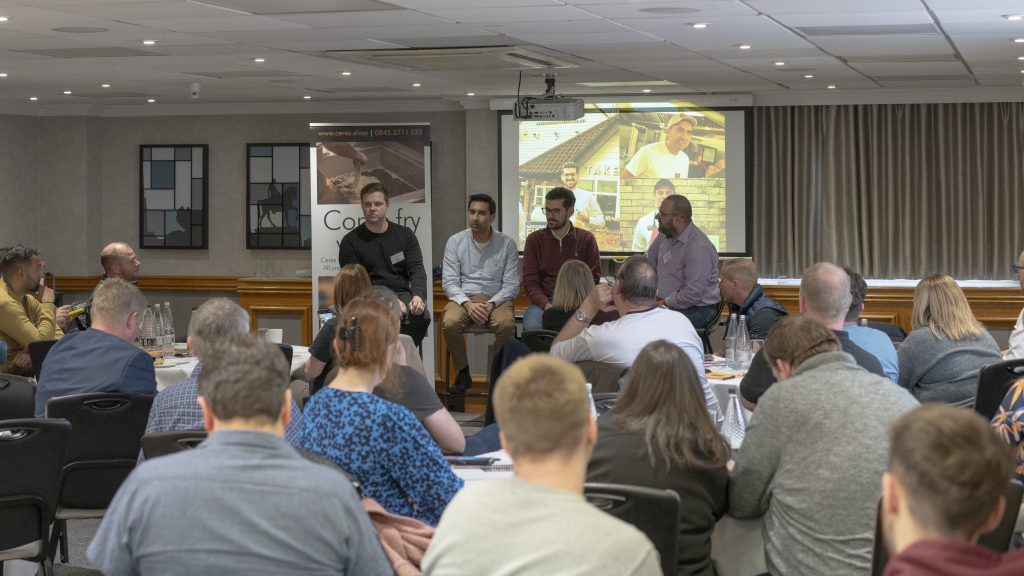 Quizzed on how she tackles tricky interview questions, such as the cost of living crisis, during the first of two panel debates, Kelly Barnes, owner of Krispies in Devon, said: "We said, yes, prices have gone up but we can't control that, and then we just kept bringing it back to our product and how good it is."
This was Bonny Ritchie's approach too when she was asked to comment on rising prices on behalf of her chippy Simpsons in Cheltenham. "We used it to say what we are about, so said, yes it's more expensive but it's because we only buy the best."
In the second panel debate, the advice from George Papadamou, owner of Papa's Fish & Chips, for anyone with a story to tell is to milk it, spin it and bang the drum until your fist goes through it!
"I would encourage you to be as ambitious as possible and if you don't, shame on you!" he said.
This was echoed by Charlie Collins, owner of two takeaways in Leicester both called Frydales, who said even smaller stories can make the headlines if you frame them correctly.
"The Young Fish Frier Award might not increase trade like winning Fish & Chip Takeaway will do, but give customers something to celebrate your win that will get them to come in – a discount or a special offer, fish and chips for £6 of £7." 
Further sessions taken by Stelios Theocharous, managing director of Ceres, encouraged shops to be proactive and not wait for opportunities to come to them, to spend some time and effort taking high quality photos, to choose the right social media platforms based on demographics, and to post regularly and at the right times.
"Only 3% of your followers see what you post on social media so you've got to create content to feed the algorithms for your content to get shown," he said.