Pisces in Heswall, Wirral, is embracing new food trends, offering customisation, and embracing social media to move with the times
Cos Michael comes from a family of fast food pioneers. Both sets of grandparents ran fish and chip shops, cafes and restaurants in and around Manchester and Liverpool from the 1970s, one claiming to have been the very first chippy to introduce Chinese food on the Wirral – now a mainstay of most shops in the area – while the other operated one of the very first 24 hour takeaway businesses in the city centre of Manchester on Deansgate.
Working in his family businesses as a youngster, Cos was used to extensive menus that covered three or four cuisine types, but when he bought Pisces in Wirral 26 years ago, he set about creating a traditional shop, serving what he describes as "top end" fish and chips. As a result, 80% of its sales are fish and chips.
Taking inspiration from his family, Cos has continually moved with the times and hasn't been afraid to make changes. Over recent years, for example, the variety of fish on offer has been cut right back following a run of supply issues and concerns over quality. Whereas once it used to comprise seven different types including hake, salmon, sea bass and sea bream, now it's predominantly cod, haddock and plaice.
Changes
Market forces have also instigated other changes. For example, to cater for customers with dietary requirements there are now vegan bites on the menu which customers can have on their own, in wraps or as part of a meal box -. while customers looking for a lighter, on the go meal can choose from a range of wraps.
"We like to use ingredients that we always have and just change the concept a little," says Cos. "It means we can offer greater choice and we turn the ingredients over a lot more.
"I see it a lot, people stuck in the old school ways who don't really want to be creative or try and change and they still expect people to just come in. It doesn't work like that anymore."
As well as being creative with the items on the menu, Cos has used some clever marketing tricks to design the menu, with customers prompted to upgrade or add on at every opportunity with a "big" pie, a "large" haddock or extra burger toppings for £1. Meanwhile, a visual of their 4oz side versus their 7oz has the customer thinking about value for money, helping to push up average spend and, more importantly, profitability. It also taps into a trend that Cos says is key: customisation.
"As much as I hate what they do as a product, McDonald's are the go to for everything for me.
"If you look at the way they do their marketing, they've gone down the customisation route. And that is what makes you different because most places will go 'no, that's how it is, that's how you get it'. Whereas actually, it doesn't cost you any more to customise a meal. If anything, you probably find that customers remove half the stuff you put in so, actually, you are really homing in on the efficiency and controlling waste.
"If you cook to order like us it's not going to make a huge difference. You just need to read the tickets a little bit more carefully!"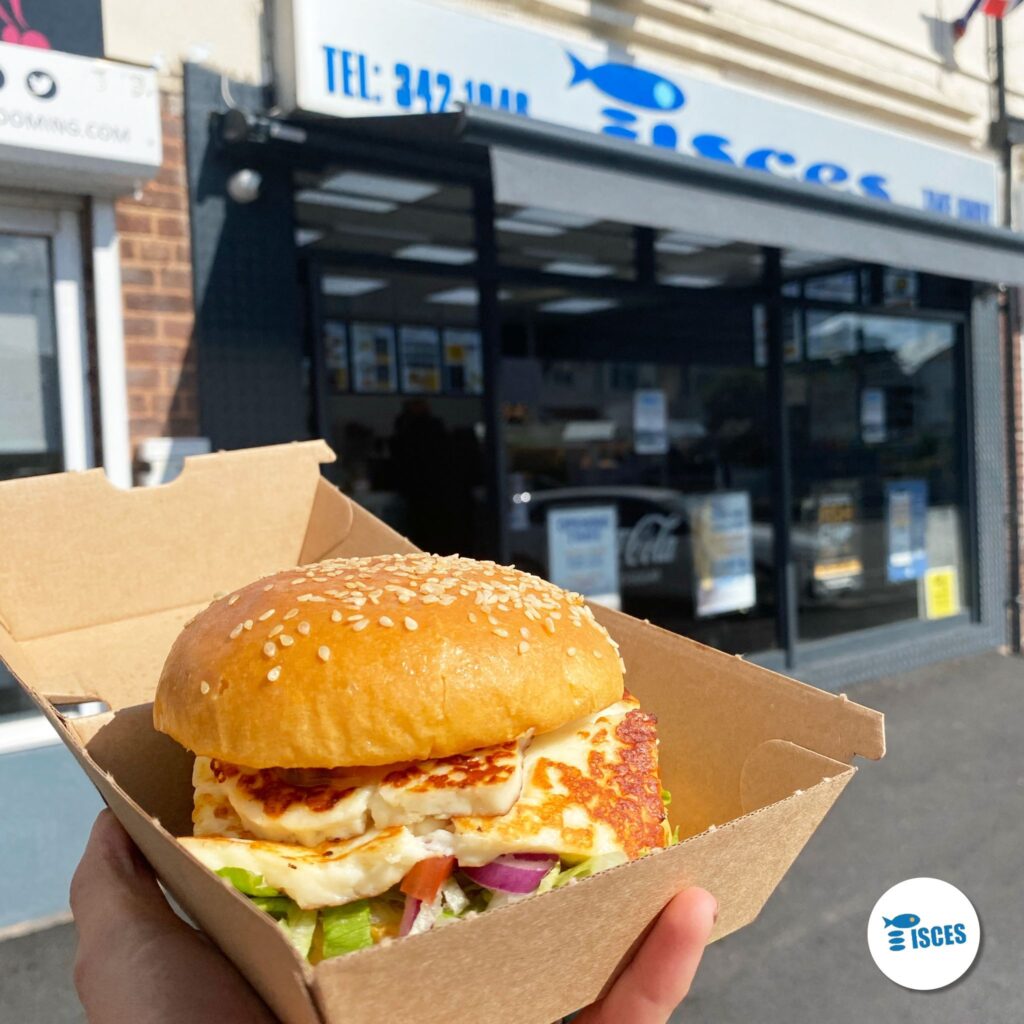 Younger demographics 
Like a lot of shops, Pisces has embraced online ordering and offers a click and collect service. It's through this digital platform that Pisces not only targets the younger demographic but also sees the largest uptake of new items.
"Online customers are looking at a screen and they have a little bit more time to actually study the menu. So we emphasise the things which aren't our core items because our customers know we offer fish and chips. That's when they say, 'Oh you do this and you do that,' and order those items."
What's more, Cos says that the addition of click and collect is resulting in a better customer experience as it's quicker and easier to build a rapport with the customer.
"You're getting that data, that information," he says. "First and foremost, you know them on a first name basis, so when they come in we say, 'Oh, hi Helen. How are you doing?' it changes the whole experience for the customer and makes them feel valued and recognised."
Another trend Cos embraced early on was moving away from single-use plastics seven years ago. As well as the environmental benefits, it has helped justify a higher price point, which in the current economic climate has helped his business stand out.
"If you bring the product across in a way that it looks premium because it's in a nice box and it's all branded, people don't begrudge the price," says Cos.
"Obviously, you still need to offer a quality product, you can't put rubbish in a box, but that switch really helped us. And because single-use plastics is such a big thing in the media at the moment, I think subconsciously that does make people go, 'well, actually, I could go to this chippy here, it's convenient, but you know what, I know Pisces is better and I don't mind paying that extra 20 or 30p'. That is super important."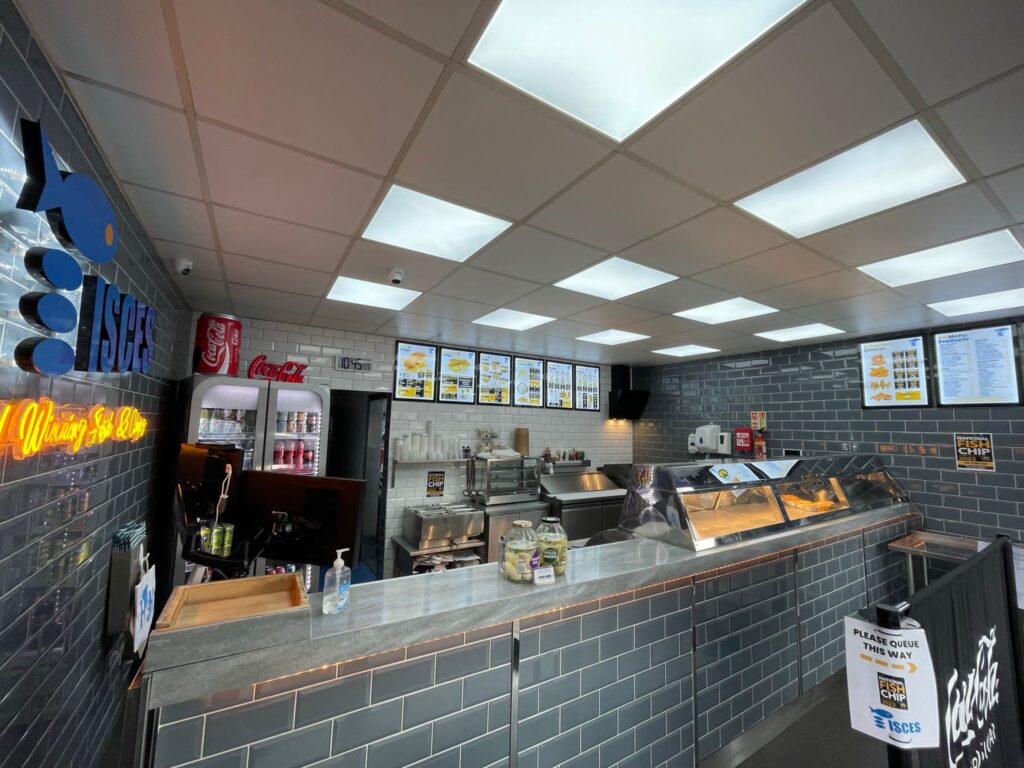 Embracing social media to reach his customers, Cos has recently used TikTok to target the younger generation. Aware that its reach is global and, therefore, the viewing figures must be taken with a pinch of salt, it allows the chippy to be creative, for example running a seven-hour live stream on Good Friday.
"We stuck a tablet to the wall and, I kid you not, there were people watching us for seven hours straight until we closed the door. People were commenting 'wow, I didn't realise what goes on behind the scenes'. That's something we don't think about – your customer literally sees you for anything from a minute to a 10 minute window, they don't see what you are doing half an hour beforehand or what goes into prepping your potatoes. This way we can show them what we are about."
It's certainly a different environment to the one Cos's grandparents were used to in their day, something his grandad commented on recently.
"He's 85 now," explains Cos," and he said to me, 'I can't understand this. This is way beyond my comprehension. You've got 20 tickets there, you've got 30 orders here on the screen. How do you cope? How do you know what's going on?'. I said, that's just the way it's going. It's evolution, isn't it?"