Having based his takeaway on affordable quality, Marco Luni, owner of Marco's Fish & Chips in Ayr, says while other shops around him are struggling, his is only getting busier
The price of fish and chips hasn't changed at Marco's, which is situated 400 yards from the beach on the southwest coast of Scotland, since January this year.
Standing at £6 for a 6oz fish and £2.95 for regular chips, prices increase once a year, a policy that Marco says has worked for him since opening the chippy 15 years ago. It's one of the reasons why he believes his takeaway is so popular.
"I take my three best sellers – my potatoes, my fish and my sausages – and I work out how many I've bought over a year and then I work out an average price," explains Marco. "The cheapest we got potatoes for last year was about £12 and the dearest was £27, so once I've averaged it out across the year it's probably about £16-17, so that's what I work out the prices on, obviously building in electricity, gas, wages and all that."
It works for Marco and for his customers who are guaranteed steady prices all year round, but it's not the only factor contributing to how busy Marco's is. It's also this owner's meticulous quest for quality.
Fresh Scottish haddock is delivered daily from Peterhead – arriving filleted, cut and ready to go in the pan – while those Scottish classics such as haggis, black pudding and square sausages are made by local award-winning butcher, Picken. Pies and rolls, meanwhile, are fresh from a nearby bakery and no sooner are they out of the oven than they are gracing the shelves at Marco's.
"Using local suppliers you get better quality, it's as simple as that. Even though it's more expensive – it's maybe 25% more than what I would pay at a wholesaler – I prefer to pay the extra, and that's why my customers keep coming back. It's the quality of the food we are serving."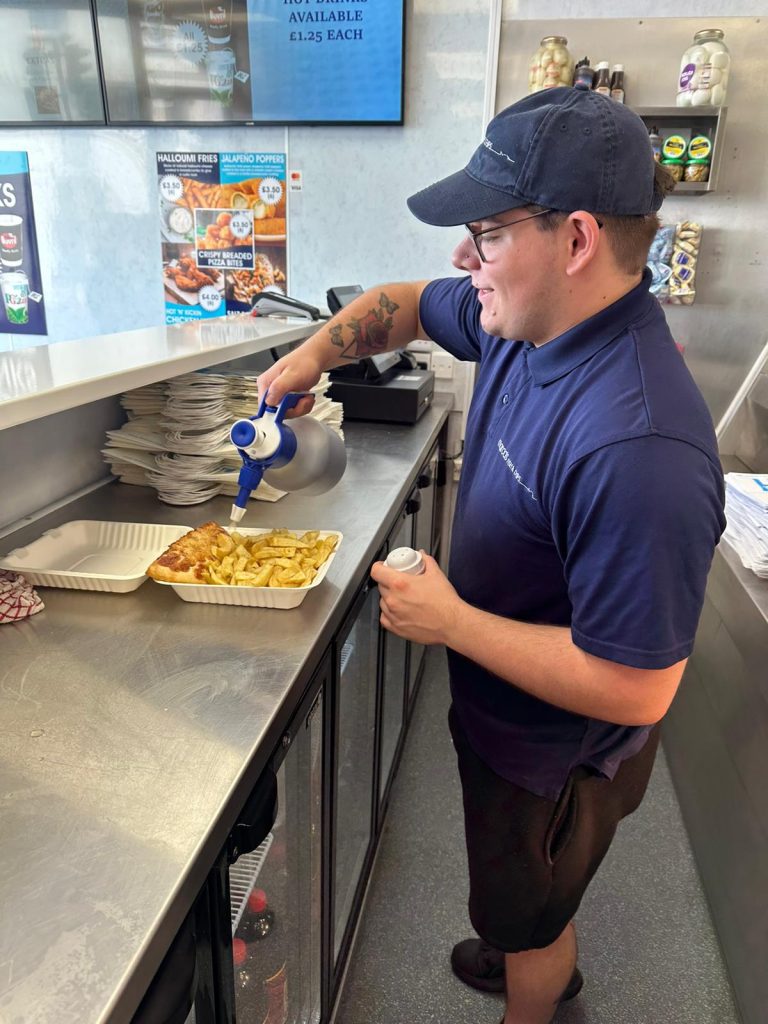 With prices and quality locked in, Marco has carved out a niche in the area that few others can emulate, and it's why the shop remains one of only a handful that is dedicated to walk-in customers only. There are no phone orders, click and collect or delivery options here, instead the chippy prefers to dedicate its time to the 500 walk-in sales it can take a day.
"We are so busy as it is, adding phone and online orders would be impossible to do," says Marco. "We just don't have the capacity, even though we have six pans. We'd have to open another place and have a facility specifically for phone orders and deliveries. We did look into getting a unit at one point but we decided that the costs and the returns were not very good."
It does mean at peak times customers can be waiting, and it has been known for the team to stop taking orders while they catch up.
"We've had days where we've had 20, 30, 40 orders so we politely say to the customer we've got too many orders and we have to get through the ones we've got before we can take anymore. Most of them are happy to wait, especially these days when they have their mobile phones to keep them busy."
Even the odd lost customer isn't enough to convince Marco to take the business online, although it was a service they implemented during the pandemic when it was a necessity to stay open.
Marco comments: "We found with delivery we got a lot more complaints, the biggest one being food missing. We ended up taking pictures of the orders before they left the shop but, because we worked with Just Eat, they would just give the customer their money back and we would lose out. We weren't happy with that because we knew people were doing it deliberately. When things were back up and running again as normal, we were even busier than before so we didn't need to do any more deliveries."
It's a trend that has continued with Marco often looking at his queue of 30 customers and then glancing down the road to his nearest competitor with an empty shop. "The number of people coming into the shop is still increasing. With the price increases, the profit margin has been cut but we are a lot busier.
"I think it's because of the quality of what we're giving to our customers and the freshness. Everything is cooked to order, nothing is left sitting there so when the customer takes their food home they're not going to have any problems."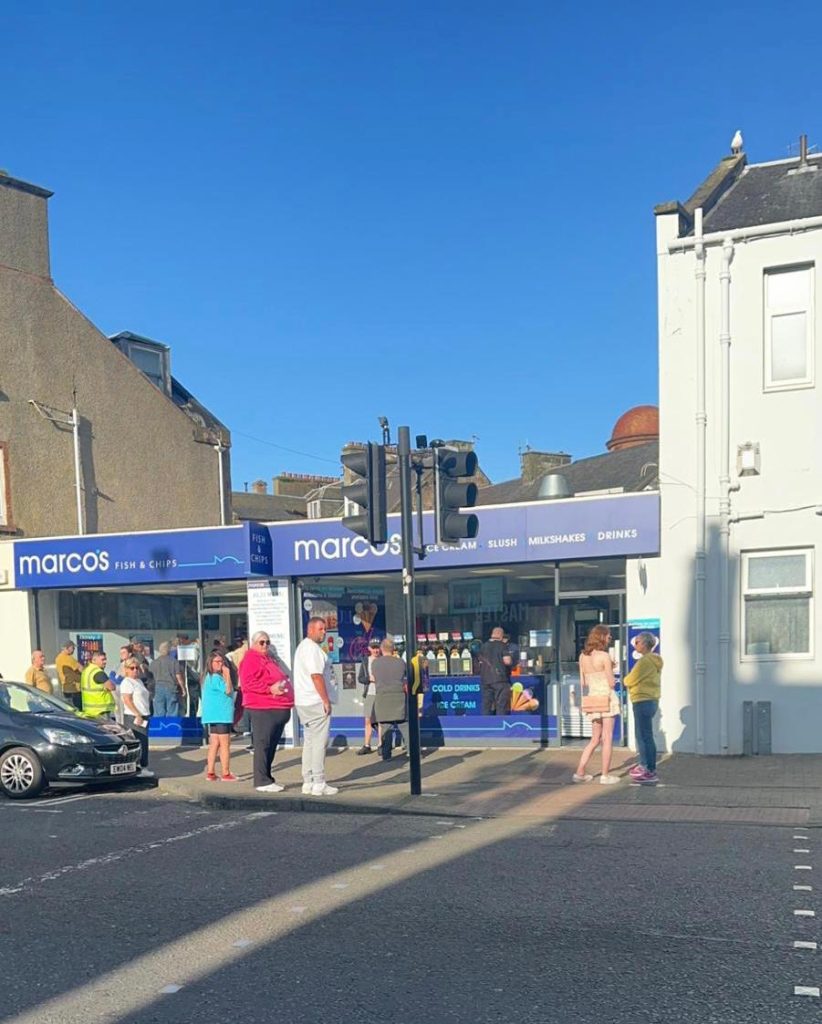 Marco's may not have any additional capacity now, but up until five years ago, it was firing on just four pans. When the shop next door became available it allowed Marco to knock through and put a further two pans in. With the extra capacity, the takeaway added sides – chilli chicken, halloumi fries, jalapenos and pizza bites.
"The sides seem to be a new thing that is becoming more and more popular every day," he says. "We are getting a lot of extra sales that we weren't getting before. Some customers may come in and ask for a couple of fish suppers and then come back to the till and ask us to add on a portion of a pizza bites or chicken. Once they know about it, they add it to their order next time."
The additional space has also been utilised to expand the drinks offering, with slushies, milkshakes, hot drinks and ice creams now available. Although customers might not come in for drinks, Marco says, as with the sides, many customers will add one to their order once they have seen them.
"Hot drinks we probably only sell about 10 a day, but the slushies and milkshakes are very popular. We do have an award-winning ice cream parlour round the corner and that ice cream is fantastic so we can't really compete with that, but the ice cream pays its way too."
Catering for all ends of the spectrum, Marco has added pocket-friendly snack options too, costing between £2.75 and £3.75 which are appealing to the lunchtime trade and those who might not want a big meal.
"That's what I aim for all the time: quality, but I make sure it's affordable," says Marco. "Not too cheap, but not expensive either. I see a lot of shops about here that are struggling but I've never struggled from day one."