Coatings and seasonings are in huge demand as consumers become more experimental with flavour, as Iftikhar Azam, director at Rupert's Ingredients, explains
Tell me a little about Rupert's Ingredients
We are a manufacturer of food ingredients, specialising in supplying the catering and food service sectors and also retail B2B. The business started in 2009 in Barnsley, South Yorkshire, from humble beginnings to where we are now.
The ingredients we produce are used to add flavour to meat, chicken and plant-based items and include seasonings, breaders and chip salts. Southern fried style chicken breading is our biggest volume item. We also manufacture batters, marinades, coatings and gravies. As well as supplying the food service sector, we have another arm of our business that supplies to other value added food manufacturers.
Our site is BRC certified as well as HMC and Kosher and our company is growing even in these uncertain times. We expanded the footprint of our site by 40% and our capacity by 30% last year and we are continuously investing, which is ultimately making us more efficient. Over the next year or so, we'll expand our production capabilities by another 40% in volume.
How has the demand for coatings changed since the business started?
Demand for coatings and seasonings has grown massively as consumers require more flavour and functionality. Fuelled by places like KFC and Nando's, which offer seasoned chicken and fries, consumers now want more flavour, whether on their chicken, fries or burger. Our growth of 40% last year is a testament to this demand, which combines the increasing demand for these types of products and our growing reputation as more customers hear about our products.
Our chip salts are growing in popularity, and products that used to do well in one particular region are now filtering out nationally. We offer a range of different flavours. Our peri-peri lightly seasoned chip salts are the most popular because they suit all palates. We also do cajun, smoky barbecue, salt and pepper, and a variety of others for people who want to experiment with flavours more. Chip salts are great for operators as they are a straightforward and cost-effective way to add variation to a menu – and operators can charge a premium price for a portion of chips. Plus, they are more cost-effective alternative to a wet dipping sauce, the shelf life tends to be better, and there is no need to buy special containers or dispensers for the salts – operators can use a standard salt shaker to serve the product.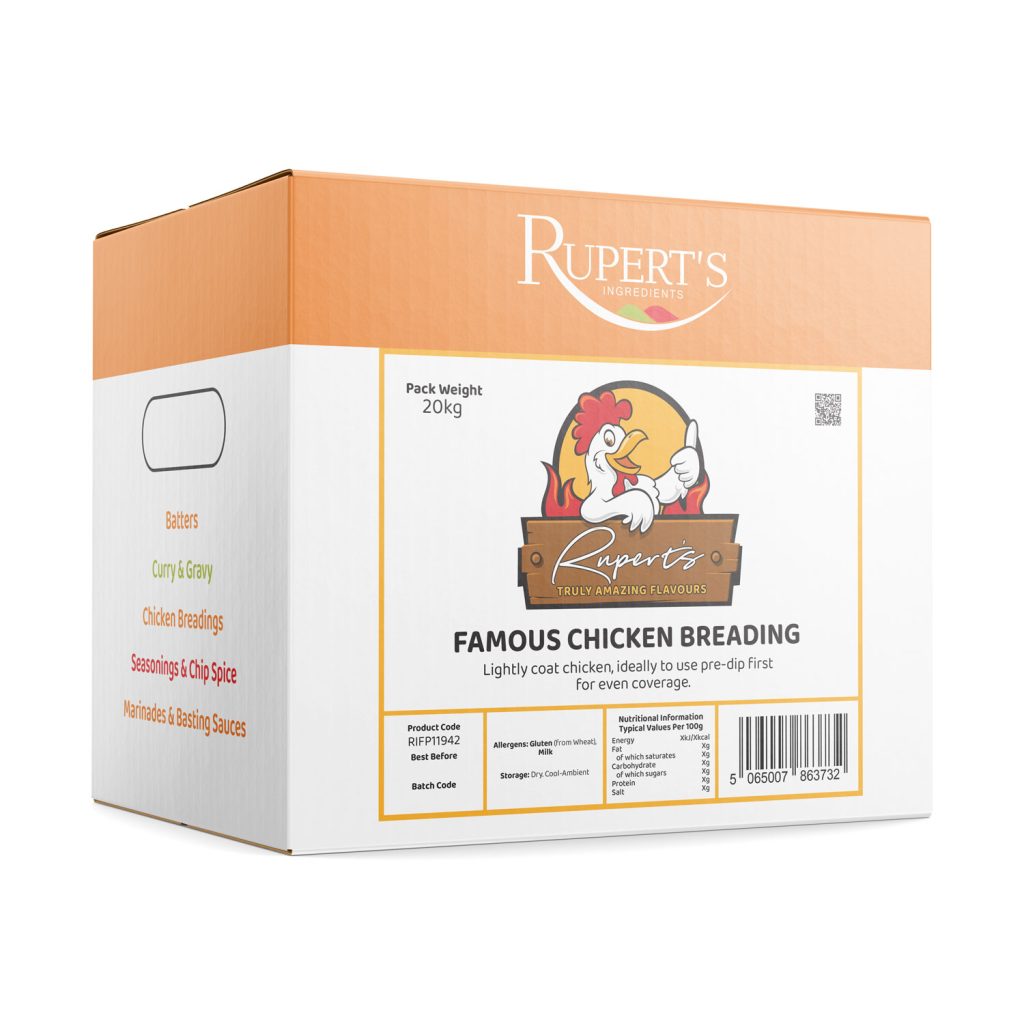 You mentioned the growth in breaders; is that coming from the chicken market?
Yes, the breaded chicken market is still huge and is driving sales of everything from our hot and spicy to the milder-tasting traditional southern fried breadings. We continually hear in the marketplace how plant-based and vegan products are growing at the expense of meat, but chicken seems to be bucking that trend. Fish and chip shops that might want to offer something different to fish but don't want to go down the plant-based route could add chicken. With a tabletop pressure fryer it's a cost-effective option too.
And what about your batters?
We offer the full range of batters in different textures, from a softer batter going all the way up to a crispy batter, and then also the different colours, so we start at a pale, golden kind of colour and go all the way through to a darker colour. The beauty of coming to us is that, if a customer requires it and the volumes are there, we can create a bespoke batter for them.
What are the benefits of a bespoke batter?
An operator can have their batter exactly how they want it. Whatever colour or texture they like, we can fine-tune it to work for them and their process, with the temperatures they are frying at and the type of oil they are frying in.
Recently, many friers have been changing to rapeseed or vegetable oil from sunflower oil because of its scarcity. When they did that, they saw a noticeable difference in the colour of their batter. We've been working a lot with our customers to fine-tune the batter to make sure it still looks consistent at all times for the consumer.
What's happening with the price of flour?
We had a tough year last year as the price of flour increased with the main impact coming from the invasion of Ukraine by Russia and energy prices. Due to our buying power and by working with key suppliers we've ensured the impact is manageable. If things calm down at the end of this year, we're hoping we can return to the marketplace and offer price reductions to our customers. 
Is there any product innovation in the pipeline?
We are constantly working on different products, flavours, and textures that work better and more efficiently. One thing that we relay to our customers is to look at the cost per use rather than the cost per kilo. It can be tempting to buy cheaper products, but when the shops use a cheaper coating, for example, and realise a problem with that product, it's often too late as their customers can choose other places to eat. So it can be a false economy.
How do fish and chip shops buy your ingredients?
Customers buying large volumes can buy from us directly, but smaller customers can request our products through our distributors, such as Adams, JJ Foodservice and T. Quality, to name a few. A full list is available on our website. 
Rupert's Ingredients www.rupertsingredients.com