Investing in the premises, the equipment and the menu has transformed a run-down shop in Newark, Nottingham, into a growing business serving the needs of the local community
Covid saw lots of food businesses pivot to survive, but for Steven and Sophie Angell, who had spent 16 years building up a mobile catering business in and around Newark, Nottingham, it spelt the end of the road.
With all events cancelled and footfall dropping dramatically at their key town centre pitch, they traded in four wheels and invested in a bricks-and-mortar business, buying their local chip shop in Newark.
It was an interesting purchase, to say the least. Laid out over four floors, the takeaway was on the second, sandwiched between residential space above and below, and required much-needed investment.
Steven comments: "The old owners were in their seventies and they hadn't done anything to the shop for about 20-30 years. A customer actually put it perfectly when they said as soon as it started to get too busy, they would rein it in because they didn't want to be busy.
"There wasn't enough capacity in the range to cope with what was coming in and there wasn't enough space to prep for what was coming in. So we basically said, we'll start at the bottom so that we've got the infrastructure to cope with any increase in trade."
A new potato room along with a walk-in fridge and a walk-in freezer were installed in 2021 before a major refurbishment took place last year to the second-floor shop, which included moving walls and a staircase, new tiling and a new frying range.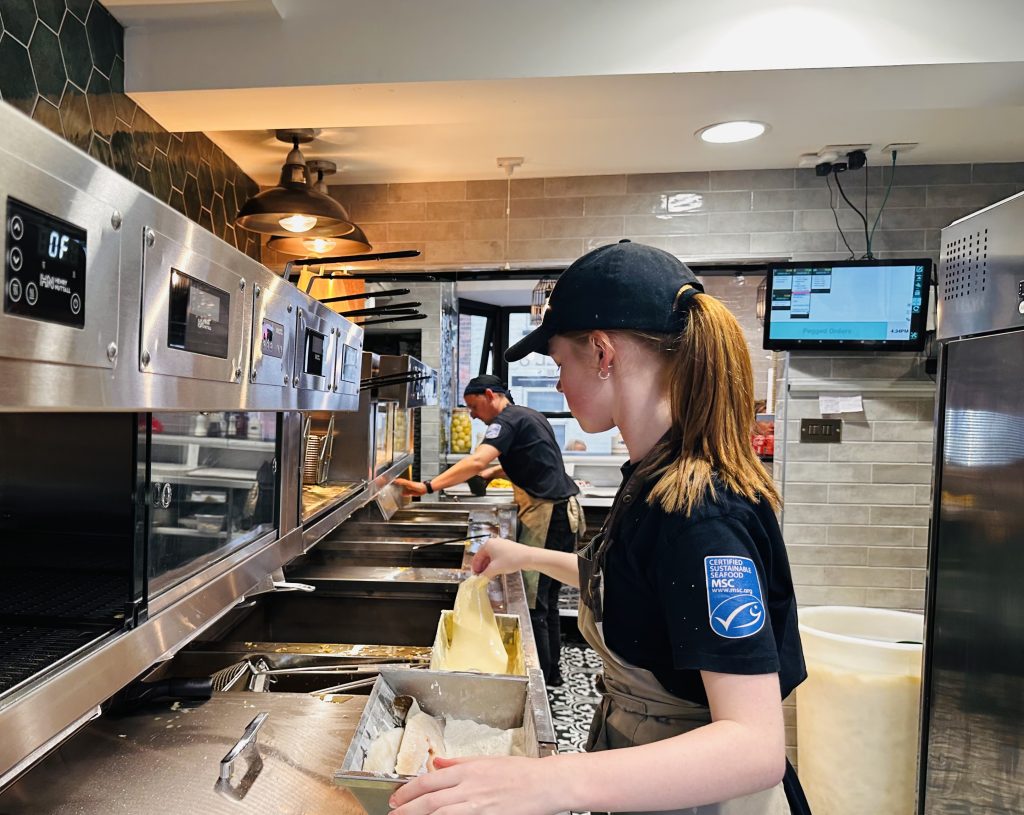 Describing their experience so far as a "journey", Sophie and Steven estimate trade has grown by 60% since the shop re- opened under its new guise of Angell's Fisheries. This isn't simply a result of the aesthetic changes the pair have made, but the improvements to the menu too.
While they have stayed true to fish and chips, they have brought burgers across from their mobile catering business, as well as fried chicken wraps and battered halloumi, which they say are popular with the younger crowd. And two varieties of pies satisfy two different markets: Pukka go down well with the builders at lunchtime, while its premium butchers-made pies bring in the families of an evening.
The pair also like to create events, holding a gluten free night once a month as well as a beef dripping week once a month.
"We don't try to offer a lot of things all the time," says Steven. "We try to run an event so there becomes more hype around it. Our beef dripping week is our busiest week of the year – busier than Good Friday – because nobody around here cooks in beef dripping. If we did it all the time though, I don't think we would get that amount of interest."
And while they are well aware that the lunchtime trade won't make them rich, Steven and Sophie take a proactive approach, creating a range of "brilliant box" meals that include either cod or haddock, a fishcake, a sausage or a pie and chips for just £3.
"Lunchtimes sometimes serve the purpose of making sure you're there so people are thinking of you," says Steven. "What we also find is someone will come in at lunchtime and they will really like what they had and then they'll end up coming in in the evenings to buy the whole family a meal. It's a bit of a loss leader in some ways, but it can be very advantageous."
Rising costs
Not only have customers had to get used to two new faces behind the counter at Angell's, but they've also had to swallow some hefty price increases as a result of the rising costs within the industry at large. For Steven and Sophie, this has meant working twice as hard at building a relationship with customers from day one.
"That was difficult and probably one of the hardest things we've had to do," says Sophie. "But I think now they've seen the effort that we're putting into the shop, and they can see that we care, I think we've got their support."
As well as supporting local groups and charities, they also looked at adding cost-effective options to the menu – like hake.
"There are people out there that can't afford fish and chips like they used to and we were getting some coming in and asking for a small cod and when we said that's £5.20 they would say, that's a bit pricey," says Sophie. "By adding hake we are able to say, well you can have hake, chips and a sauce for £6.60, and customers would say, oh, well I'll have that then. People are still coming in for that now."
Hake works for Angell's too, which buys it in 6-9oz sizes so there's no prep involved. "Basically, we just get it out, we thaw it and then just fry it," adds Steven. "That all adds to keeping the price down on it as well."
Putting both time and effort into the business has brought new opportunities not just to Angell's – it is due to start deliveries next month – but to its team too. Having grown from a husband and wife team with just two extras employees under the previous owner, the Angell's team is a much stronger seven – and not just in numbers, but skills too. The two who worked for the previous owners were kept on by Sophie and Steven who saw their potential and evolved their roles accordingly.
"The old owners were keeping them on very basic jobs," explains Sophie. "Whereas now, one of them is a fully trained frier and can basically help us manage the shop, and the other is running the front of house when I'm not there."
Sound business
Although it turned out to be a tough time to enter the fish and chips market, Sophie and Steven feel it's helped them in a way as, from day one, they've had to focus on the bottom line, giving them a sound business from the off.
"I think it's made us more aware of little things and whereas we may have been a bit more lax, we've tightened up and said how can we do things differently to make this work better," says Steven.
"For example, the fish, when we took the shop on from the old owners, they didn't weigh any fish. I said straight away, we need to weigh this fish because we don't know what we're giving out. Now anything we are cutting off we turn into fishcakes – we have three varieties of fishcakes."
Oil management has also come under scrutiny with the pans now cascaded rather than just filtered, and filtering takes place twice a day rather than once a day. Attention has been paid to the time it takes to rumble the potatoes to ensure the maximum yield is gained from a bag.
Steven adds: "I think the last year or so has made everyone in the industry more attuned to the fact that they need to be more savvy – especially if they are going to survive."