McWhinney's sausages have taken pride of place on the menu at Fish & Chips@Weston Grove ever since it opened in Chester almost seven years ago
A busy shop with 95% fish sales, owner Josette Foster insisted on a premium sausage to match the quality of the fish it serves. McWhinney's Irish pork sausages – with 70% meat content – matched that brief.
"You can tell they are a quality product as soon as you taste them, you can just tell," says Josette. "We're a premium priced product on our fish and by serving McWhinney's it matches our whole ethos of having a really good quality product."
Proud to be serving McWhinney's, Josette displays the brand name on the menu board, and whether served battered or plain, she's yet to come across a rogue one. "You never get a sausage that splits or bends or anything," she says. "They're always perfect and that's what we want because consistency is so important to us."
Sausages are the shop's second biggest seller after fish, with most customers opting for the chippy's £5 lunchtime special which includes chips and a choice of gravy, mushy peas or curry sauce. On a Friday tea time, over 60 McWhinney's sausages can pass over the counter.
"Once a customer has a McWhinney's they won't go for anything else," adds Josette.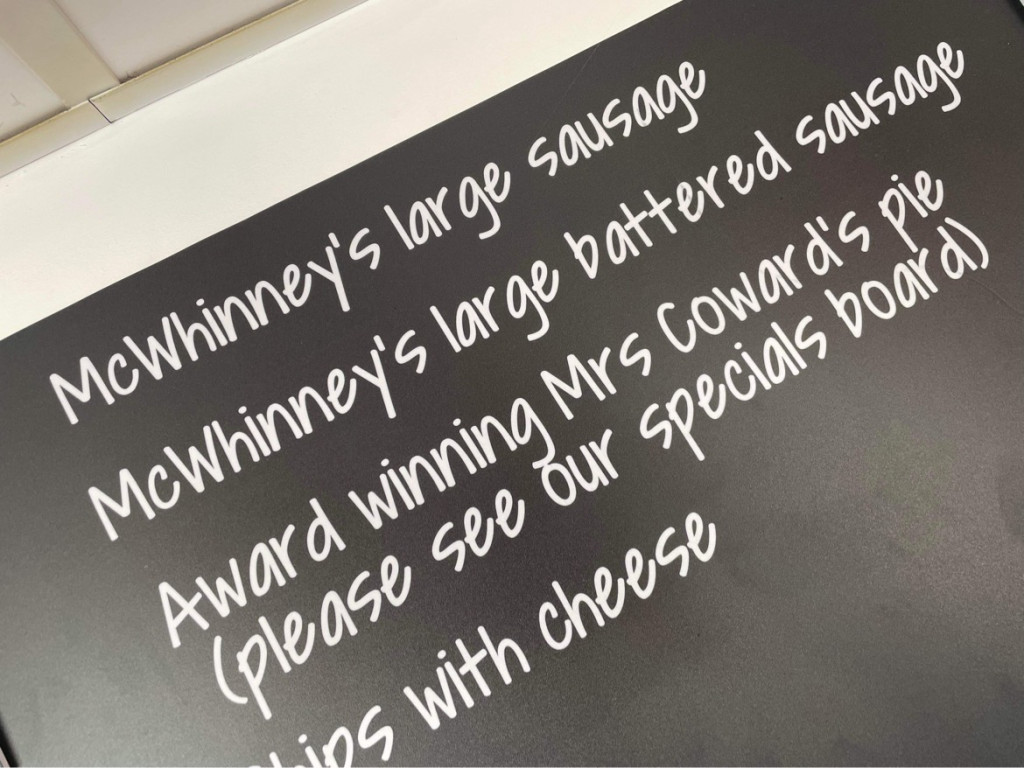 Catering for coeliacs, Weston Grove has recently added McWhinney's gluten free sausages to the menu, increasing the options available for these customers.
"The gluten free sausages are fantastic, you can't tell the difference at all. For a gluten free sausage to stand on its own without having to have a sauce and without having to have chips with it is so important."
To celebrate McWhinney's 125th birthday, Weston Grove has taken part in a week-long promotion whereby customers get a free McWhinney's and chips when ordering fish and chips. For Weston Grove, it's not only been an opportunity to give back to their loyal customers but also a chance to drive sausage sales further.
"It's been very popular," says Josette, "and I think that will increase sales of the sausages because those customers that haven't tried them yet are getting the chance to. They'll think, 'wow, that was excellent'. So I think after the promotion, sausage sales will increase even more."
With any unclaimed orders being paid forward to a homeless football team, and some sausages being held over for the Whistun weekend to feed children whose families are struggling with the cost of living crises, the promotion has had a ripple effect.
Josette explains: "It's such a generous promotion for McWhinney's to run and, for us, it's so much bigger than initially intended. It will have a big impact on the local community as well as on people's choices later on when they've had the free sausage and they come back for more."
McWhinney's 028 9127 1811 www.mcwhinneys.com