It is in demand and can realise high profit margins, but is pizza right for your business?
Pizza is big business. According to market research company IbisWorld, the UK pizza delivery and takeaway industry is worth a whopping £3.7bn and has seen growth of 3.3% in the last five years.
With a further growth of 3.9% to £4.5bn anticipated over the next five years, it's an attractive proposition for fish and chip shops to add to their menus. But like anything, look a little closer and there is more to it.
Skilled profession
Mister C's in Selby, Yorkshire, added pizzas to its offering to fill the void when its restaurant closed during Covid. Although it has now gone back to a full-service restaurant serving fish and chips, manageress Amy Horsley has plenty of advice for those looking to take a slice of the market.
The first is not to underestimate what it takes to make a good pizza. "We were very fortunate, we had an experienced chef working for us," says Amy. "His knowledge was invaluable because pizza, in the same way as fish and chips, is a skilled profession. And if you're going to do it, you have to do it with the same level of care as you do your fish and chips. It shouldn't be a cheaper side-line."
Mister C's sourced frozen dough balls, which Amy says give a really nice pizza base without the hassle of making your own dough, and authentic Italian ingredients. Along with a double-layered pizza oven, Mister C's also purchased utensils such as paddles and trays to make getting pizzas in and out of the oven easier.
"Pizzas are more time-consuming and space-consuming than you think," adds Amy. "It's not something you can do on a tiny work top because if you get an order for four or five at once, suddenly that becomes quite space-demanding."
It's one of the many aspects Terri Baker, owner of Young's Famous Fish & Chips in Silsoe, Bedford, took into consideration when she added pizzas to the menu 10 months ago. With two pizza ovens producing up to 30 pizzas on a busy night, Terri gets ahead by making eight cheese and tomato bases at a time and utilising a refrigerated display unit to hold them.
Like Mister C's, Young's pizza business is based on authentic Italian ingredients, but what has really helped boost sales is the addition of a two-person delivery service. She adds: "Our pizza sales have gone up by about 70% since launching delivery. It really has saved our chip shop in light of all the soaring costs, with the profit on our pizzas about 70%."
However, Terri does point out that she is totally unopposed of competition, with the nearest pizza business five miles away.
Being aware of the competition is something Mister C's Amy believes is paramount to the success of pizzas, commenting: "In most areas now you can buy pizza from 10 different outlets, so make sure you're not already joining a saturated market and that it's going to be worth that investment because the equipment and ingredients aren't cheap to do pizza well."
Be different
With research from IbisWorld indicating that gluten free, meat free and gourmet pizzas are gaining ground on traditional pizzas, one way to stand out is to be different. Try out the competition and then think different bases, sizes, sauces and toppings.
In Terri's case, pizzas are cooked front-of house to add theatre while ingredients such as chicken, mince and sausages are sourced from a local butcher and Terri marinates and preps them herself. "I've also added mini pizzas, which are about nine inches, for the children because they were coming in, asking how much the pizzas were and walking out when I said £10. I asked how much pocket money they get and they said £5 so we sell them for £3."
Another operator that has had success selling pizzas is Eric's, which launched a stand-alone restaurant next door to its flagship chip shop in Thornham, Norfolk, at the end of the first lockdown to give customers an alternative dining option. It now sells in excess of 50,000 pizzas a year, which equates to about one-quarter to one-third of the sales between the two businesses. Its pizzas have proved so popular that a frozen version is stocked in shops throughout Norfolk and Suffolk.
Head chef Fred Bambridge believes its success lies in using the best ingredients and the right equipment. He comments: "We hold the same ethos of freshly cooked food sourced as locally as Eric's fish and chips. Our main investment is a handmade Bushman wood-burning oven. After the first summer, we brought in a second combination gas/wood Bushman oven to suit our needs as we were busier than anticipated."
Although Eric's has the facilities to make dough from scratch, Fred suggests fish and chip shops that don't have the space use a good frozen dough product along with a dough roller and a good quality oven.
"Pizza is a highly profitable product but the quality and profit varies enormously with how much work you are willing to put into it. There's a huge scope to reduce labour costs by investing in the right products and machinery."
FRED'S PIZZA PERFECT DO'S AND DON'TS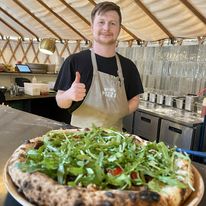 DO use the best quality ingredients you can afford
DON'T settle for a cheap oven. A good oven is worth the investment and will last for decades with little or no maintenance.
DO get proper advice from someone with expertise in pizza
DO buy frozen pizza dough
DO have fun and be creative!
---
Pizza bases ready to go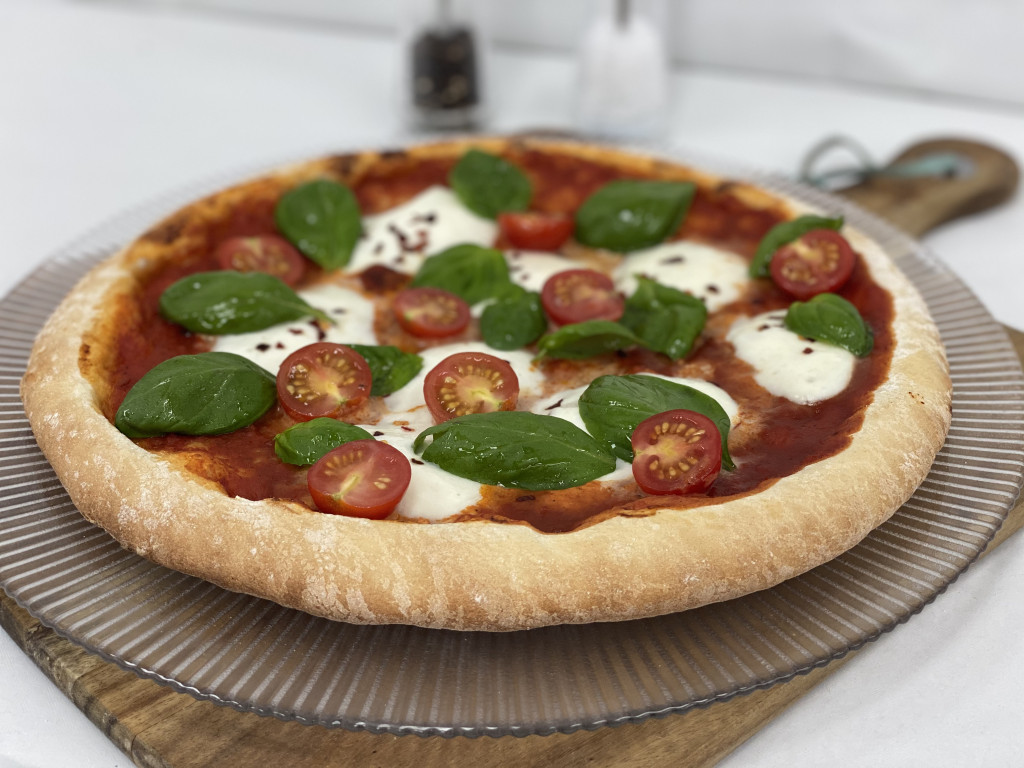 Pan'Artisan offers a premium Italian Wood Fired pizza base that is hand-shaped and part-baked, topped with sauce and frozen to lock in the flavours. Giving a thin, crisp, light base with a traditional thicker-edged crust, they are available in 23cm, 10 per case and 29cm, 12 per case and are suitable for vegan, vegetarian and lactose intolerant diets.
Pan'Artisan 01730 811490 www.panartisan.com
---
The perfect pizza topping
Grated Pizza is the perfect Mozzarella for topping pizzas as it does not blacken in wood ovens and it has a even melt with minimal oiling out. Available in 2kg bags, Grated Pizza is suitable for vegetarians and is gluten free.
Kerrymaid 01784 430777 www.kerrymaid.com