Vinegar has long been a fish and chip shop's best friend but there is more than one variety and way to serve it
Every few years the same story does the rounds in the media about how some chip shops serve "fake" vinegar – referring to non-brewed condiment – as opposed to what they call "real vinegar" – malt vinegar.
Whilst it draws gasps from readers and endless comments, it's a well-known industry fact that non-brewed condiment – made using water, acetic acid and flavourings – is a fish and chip shop favourite.
A popular product
Kelvin Lee, managing director at Drywite, which first started producing Maltflaven non-brewed condiment as a concentrate in the 1930s, says it's still a popular product and estimates a huge 80% of the market uses non-brewed condiment.
He comments: "When we started supplying Maltflaven, it was an economical way to supply a vinegar product because it was cheaper to transport, it involved less packaging and less storage requirement. But then customers started putting vinegar on their fish and chips at home and they realised it didn't taste the same as in the fish and chip shop, so we started selling the ready-to-use bottles. That was over 30 years ago and we now sell thousands every year."
One chippy that champions non-brewed condiment is Towngate Fisheries in Idle, Bradford, where owner Mark Drummond uses Drywite Maltflaven 12-1 concentrate. He mixes it in a barrel back-of-house and decants it into plastic squeezy bottles which staff use when customers say "yes" to vinegar.
Mark comments: "Certainly in my area in Bradford, when I was young, every chip shop had non-brewed condiment. Nobody told you that's what it was, it was just chip shop vinegar in a plastic bottle on the counter, but it is a different flavour to malt vinegar. I describe it as being less astringent than malt vinegar and that is the taste that I like – because I grew up with it – and that my customers like with their fish and chips. It is the flavour that customers expect because traditionally that's the flavour they have always got."
As well as the concentrate, Mark also sells the small 315ml bottles, although says it's more for customer service than to make a profit. "We do try and tell people that it's better if they put vinegar on at home as the food keeps better, but they all insist we put it on as they say it tastes better once it's had time to sink in," he says. "I actually think the reason it tastes better is because what they use at home isn't the same as what we use here so they are not getting that chip shop taste. That's when we offer them a bottle of the non-brewed condiment to take home."
The Real Food Cafe in Tyndrum, Perthshire, also serves non-brewed condiment but uses Drywite Maltflaven 7-1 gluten free version. Owner Sarah Heward comments: "We use it because it's gluten free, it tastes like vinegar and it takes up a lot less space as we dilute it ourselves. We use a lot as we are accredited by Coeliac UK and sell a lot of gluten free fish and chips. This year our turnover is expected to be £100,000 from gluten free fish and chips alone."
Malt vinegar 
There is also a cohort of shop owners that insist on nothing other than malt vinegar – made by malting barley.
One of these is Dan Lafford, owner of Malt and Anchor, a fish and chip restaurant and takeaway in Cirencester, Gloucestershire. Like Mark, Dan's choice has been influenced by his childhood, recalling his mum using Sarson's when he was a child. "You get brought up with a brand, don't you? So I guess I followed suit," he says.
Having used Sarson's ever since he opened the business in 2017, Dan says it's also to do with quality and brand awareness, adding: "As a venue that is conscious of good quality, we've always felt that Sarson's is the best that is available and we are confident with it taking pride of place on our tables. Customers of all backgrounds and nationalities love chucking it on their fish and chips."
Dan also stocks Aspall cyder vinegar, which is made from fermented apple juice, for his gluten free customers, adding. "There's always a little bit of debate over whether malt vinegar is gluten free," he says, referring to the fact that malt vinegar does contain gluten but in such small quantities that Sarson's declares it safe for most people with coeliac disease to consume. "So Aspall's is available to customers if they feel malt vinegar isn't suitable for them," says Dan.
As well as what to use, a more common debate is how to best serve it. While the tradition has always been to douse chips with a generous portion, some shops are turning to a more modern method and replacing the synonymous squeezy plastic bottles with a spray bottle.
Thuxford Fish Bar in Nottingham has been spraying its fish and chips with vinegar since the start of the year, an idea that came to owner Costa Costi while watering his plants at home in a similar way. Giving an even coating of the condiment across the food, he told Nottingham News: "Its useful for us as well as it covers the whole tray of chips or fish without splashing it everywhere and keeps it more tidy on the counter, and it gets to the bottom of the chips as well."
The move has been called "genius" and "game-changing" by customers!
Whatever shops use, and however, they apply it, one thing can be agreed upon, vinegar will never go out of fashion. In a recent survey by NEODA for National Fish & Chip Day, salt and vinegar came out on top as the favourite condiment to have on fish and chips by 64% of respondents.
---
THREE TOP CHIPPY TOPPINGS IN ONE
Have you tried Marks & Spencers Salt & Malt Vinegar Mayonnaise? Launched earlier in the year, it combines three chippy tea favourites in one. It is a retail product so at £1.75 for 280ml it's not the cheapest to stock, but it makes a great point of difference. 
---
SWITCH TO SACHETS?
Ideal for takeaways and deliveries, single-use sauce sachets are perfect for portion control, providing customers with just the right amount of vinegar. Here are four of the best: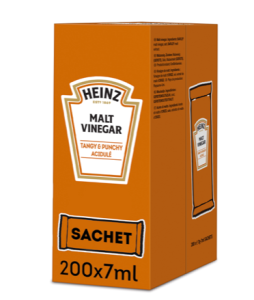 Described as tangy and punchy, Heinz sachets are available in 200 x 7g packs.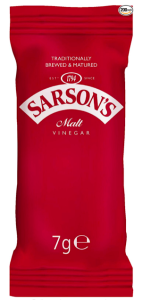 Launched during Covid, the popular malt vinegar brand Sarson's is available in 200 x 7g easy to open sachets.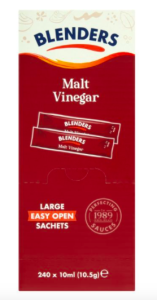 Go large with these generous 10ml sachets from Blenders which also feature an easy to open and pour spout. Plus you get 240 to a box.
Described as nutty and mellow, Harrison's also offers a slightly larger dose with its 7.5g sachets, again with 200 to a box.