The soft drinks market is bubbling over with innovation. We take a look at some of the latest drinks to quench your customers' thirsts
According to research by Statista, the average volume of soft drinks consumed per person in the UK this year is expected to amount to 134.50 litres. What's more, by 2027, 30% of spending and 13% of volume consumption in the soft drinks segment will be attributable to out-of-home consumption.
While hot drinks consumption is expected to fall, carbonated soft drinks, juice, value-added or flavoured water, and energy and sports drinks are all expected to see growth.
Cold beverages
For fish and chip takeaways, selling cold beverages is a great additional upsell – even more so if offering a delivery service, according to Britvic's Soft Drinks Review 2022. It states that nearly a third (29%) of delivery occasions contain a soft drink, with a high proportion of orders including a combination of food and drink, as consumers add on sales to justify delivery fees or negate them by reaching a value threshold. Delivery also offers an opportunity to grow sales further by catering to more tastes with products such as Fruit Shoot for children and larger one or two-litre bottles for family meal deals.
Cans and bottles are an ideal option for takeaways to stock due to their sheer convenience: they can be kept in a refrigerated display for easy customer access and simply restocked when running low. They also travel well, which again lends themselves perfectly for deliveries.
Enhancing its popular fish and chip shop range of drinks is Ben Shaws with Summer Berries. Described as light and fruity with zero sugar, this fizzy drink is available in a 500ml PET format and is expected to be yet another firm family favourite – alongside its British flavours of Dandelion & Burdock, Root Beer, Bitter Shandy, Cloudy Lemonade and Cream Soda.
Cawston Press has also been busy in the innovation department, having just launched Sparkling Pineapple & Grapefruit. Offering a blend of pressed pineapple and grapefruit juice, plus apple juice to sweeten, it contains no added sugar or sweeteners in a 100% recycled can.
Operators looking to add flavour to their drinks offering should try the KA drinks range available from JJ Foodservice. With three sparkling varieties to choose from – Black Grape, Fruit Punch, and Pineapple – there's currently an additional £1 off a case of 24 when bought online from JJs until 31st August.
Oasis, the number one juice drinks brand in Great Britain, according to parent company Coca-Cola (worth £94m and enjoying 15.1% growth), has extended its range of still drinks with the launch of Exotic Fruits Zero. Designed to refresh lunchtime, it is a blend of mango and passion fruit flavours with no calories and no sugar. Consistent with the rest of the range, it's HFSS-compliant and comes in 500ml recycled plastic bottles (excluding caps and labels).
AG Barr is adding some action to the growing energy drinks market with the launch of Pwr-Bru. Combining the distinctive personality of Irn-Bru, the 550ml can range consists of the Original Irn-Bru flavour, called 'Origin' as well as three fruit flavours 'Diablo' Cherry, 'Maverick' Berry and 'Dropkick' Tropical.
It's not just new flavours that drinks companies are working on, existing products are also being redeveloped in order to reposition them as healthier options. For example, PepsiCo UK & Ireland has recently reformulated classic Pepsi to have 57% less sugar. It now contains 4.55g per 100ml rather than 10.65g. In addition, it is sweetened with a blend of acesulfame potassium and sucralose, with 56% fewer calories from added sugars.
Make a shake
Whilst bottles and cans offer convenience, Karen Green, marketing manager at Aimia Foods, suggests sales of this kind of drink can fall short given that many of these can be found in supermarkets too.
She recommends shops invest in on-trend vended options, like its counter-top Shmoo, to boost sales.
"Offering customers instant access to tasty, fresh Shmoo shakes, these machines allow fast food outlets to boost soft drinks sales in a fuss-free way," she says.
Joe Yates, development chef at Carpigiani UK, is also a fan of making your own shakes and says by utilising one of its plug-and-play machines to whip them up, the profit opportunity for operators can be significant. He says: "For dine-in or takeaway, shakes are an easy way to drive sales, increase profit and serve up some social media shares."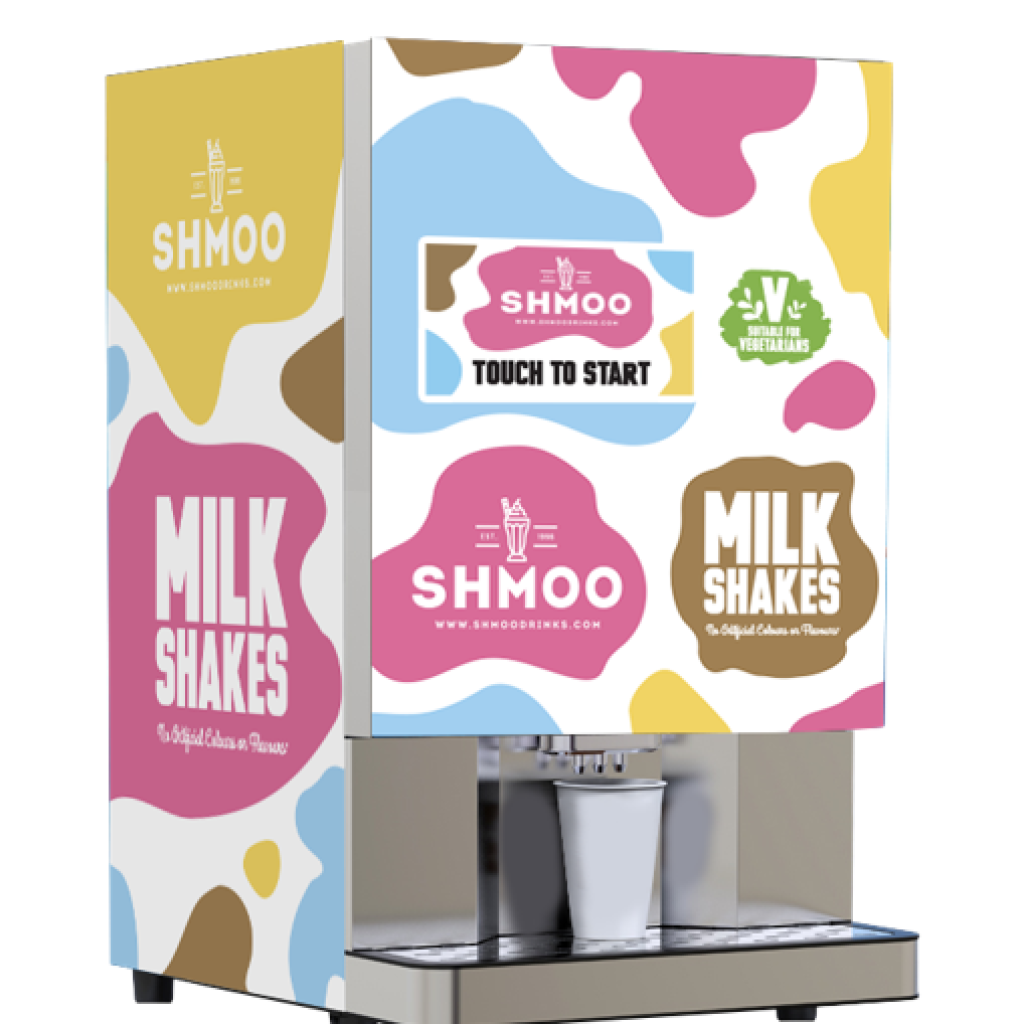 An ideal product to use with these machines is Kerrymaid's Angelito Thickshake Mix. Not only does this stand up on its own as a quality milkshake, but it can be customised with the addition of DaVinci Gourmet Drizzles, a range of toppings available in a variety of indulgent flavours from Caramel and Toffee to Devon Cream and zesty Sicilian Lemon. 
But why stop there, says Karen Heavey, brand manager at Kerrymaid, when there's a world of freakshakes to explore.
"Take your milkshake offering to a whole new level by adding cream, sprinkles, crushed Maltesers, chunks of Mars Bars, crumbled Oreos or even popping candy, with each 'extra' commanding a 50p surcharge while costing you pennies. All of these profit-maximising strategies are used by high-street chains and will allow you to spruce up your menu and capture much more value from customers."
Aimia Foods 01942 272900 www.aimiafoods.com
AG Barr 0330 390 3900 www.agbarr.co.uk
Ben Shaws 01509 674915 www.benshawsdrinks.com
Britvic www.britvic.com
Carpigiani UK 01432 346018 www.carpigiani.co.uk
Cawston Press www.cawstonpress.com
Coca-Cola www.yourcoca-cola.co.uk
JJ Foodservice 01992 701 701 www.jjfoodservice.com
Kerrymaid www.kerrymaid.com
Pepsi Co 01189 160 000 www.pepsico.co.uk