Chester's has opened its second site in Derbyshire, continuing its long-standing relationship with Middleton Foods
Motorists travelling past junction 29A on the M1 have a new pit stop for food with the opening in July of Chester's Fish & Chips at Markham Vale, Chesterfield.
Unlike at its sister restaurant which opened in nearby Sheffield Road in 2012, here drivers don't need to leave their cars to enjoy the nation's favourite takeaway as the 68-seater restaurant and takeaway comes complete with a drive-thru.
Director Chris Loannides comments: "The location is great. We were serving a lot of customers from that side of Chesterfield anyway so it's easier for them to come and visit us. Plus, we've also got people who are working and haven't got a lot of time for their lunches, commuters that just want to literally pull up, have fish and chips and go home, and, of course, those people travelling on the M1. It's exceeded what we thought it would, it's really been a busy shop."
The menu mirrors that of its Sheffield Road restaurant, serving a wide range of fish, including cod, haddock, plaice, salmon and sea bass, alongside homemade burgers, kebabs and salads. Chris comments: "I didn't think we'd sell as many burgers as we do, being opposite McDonald's, but we sell a lot. We get through about 5-10kg of fresh steak mince a day!"
Fish and chips is, of course, Chester's biggest seller, with the fish coated in a bespoke batter and chips served alongside a bespoke curry sauce, both made for Chester's by Middleton Foods.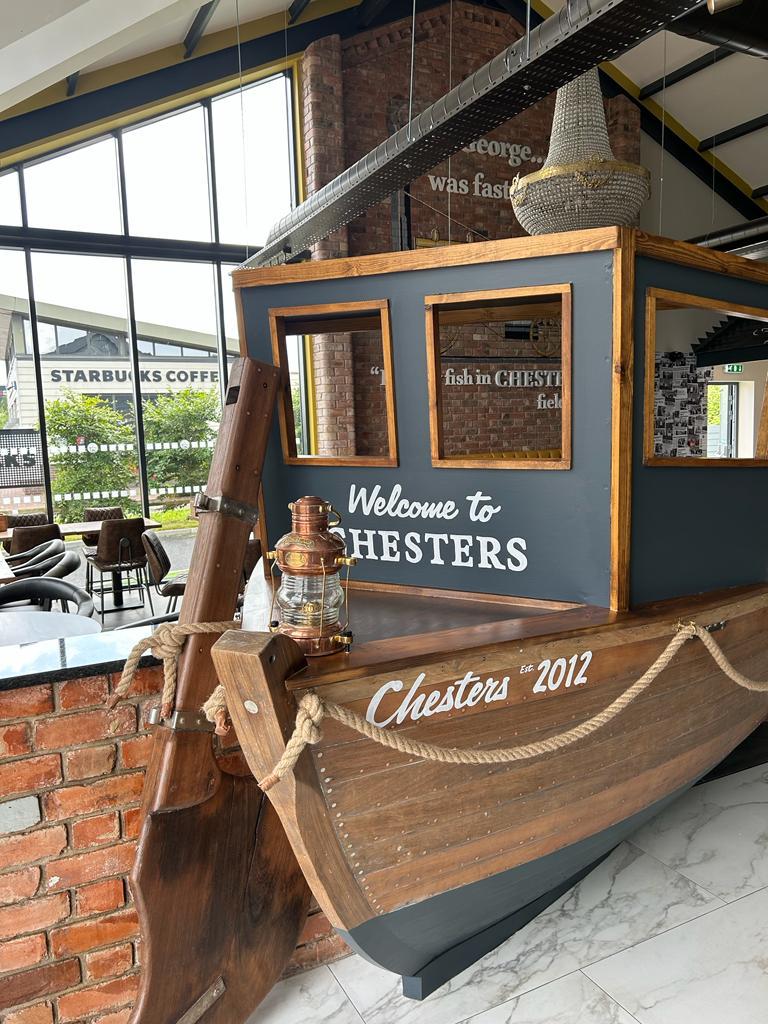 Chris explains: "When we first started out, we used a mixture of Middleton's batters which meant we had to portion each one out every week so it was ready for the staff to use. Over the years, we worked with Middletons to create a bespoke batter mix to make it easier for the staff. Now it goes straight into the food bins, it's ready to go and it's consistent every time. And the curry sauce, we wanted something unique to offer our customers."
With a number of large firms approaching Chris with franchise opportunities, potentially taking the brand as far out as north Wales, he believes having these bespoke products will help move the brand forward..
Using Middleton's Gluten Free Batter, its Chippy Choice Gravy and its Langton's Gravy, too, Chris describes working with Middletons as "magic", adding: "Nigel Ramsay is not just a rep, he's become a good friend. He's always dropping in to say hello and to make sure everything is alright."
Very rarely does Chris have a problem but when he does, Nigel is there to investigate. "He is absolutely brilliant because it's not always a problem with the products, sometimes it's something we are doing. Either way, he sorts it for me."
Middleton Foods 01902 608122 www.middletonfoods.com